Swipe to the left
5 Dazzling Wallpapers to Kick Your New Year into Gear!
If ever there was a perfect time to start planning a home décor refresh, it's January. Alright, so the weather's a little gloomy, the days are short and spring may still feel a long way off. However, the sense of renewal we experience once a new year begins can inspire us to make positive changes that have a real, lasting impact. Home improvements are no exception to the rule.
Wallpapering is one of the simplest and most effective ways of giving any room in the house a comprehensive makeover. So, whether you're into bold patterns, funky alternative designs or classic shades, our brand-new wallpaper range here at WSG has you covered (no pun intended!). Here's our saintly little guide to choosing stylish rolls that mean business!
1. For the Traditionalists
Sometimes, we all feel the need to keep things traditional. If you're a fan of the classics, it's solid proof that you're a lover of timeless designs and aren't afraid of sticking with what you know best.
Damask shapes are a fantastic option for traditional wallpaper styles, but at WSG, our designs always include an element of 'anything but ordinary' style to ensure that they stand out from the crowd.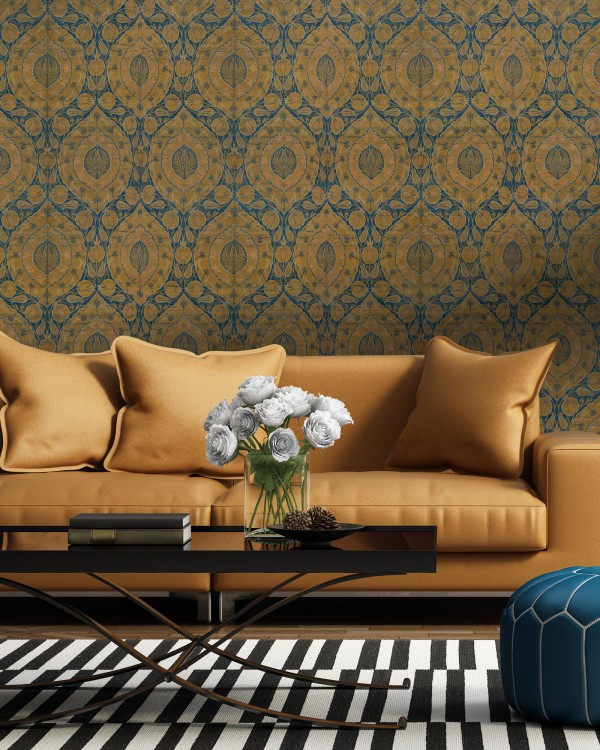 That's why we reckon our Kaftan Wallpaper is the perfect choice for lovers of the traditional style. Based on an ancient textile design that has its origins in Mesopotamia, this ornate mural by Mind the Gap boasts beautifully soft brown and blue leaf shapes that convey an exotic Middle Eastern vibe.
A real treat for fans of the bohemian style, this wallpaper is a great option for Saints that see sophistication and traditionalism as going hand-in-hand. We've matched this one up with orange/brown and blue décor for seamless integration, but don't be afraid to try it out with wooden furniture, as well as a spectrum of subtle hues such as amber oranges, mustard yellows and rusty reds.
2. For the Downright Funky
Prepare to be whisked off to a galaxy far, far away! For the truly bold adventure seeker, our Other World Wallpaper is the perfect rocket fuel for your inner creativity!
Featuring a unique, intergalactic design, this striking mural is a busy scene of pink robots, silver spaceships and yellow aliens, all highlighted on a deep, black space backdrop. Conveying some serious Flash Gordon vibes, this one spells audacious with a capital 'A'!  
You could go retro with this design, opting for some bold mid-century décor, or you might want to consider darker furniture that blends in nicely with the backdrop. Subtle décor will allow this wallpaper to be a focal point in any living room or bedroom, so don't be afraid to let the walls do the talking with this one!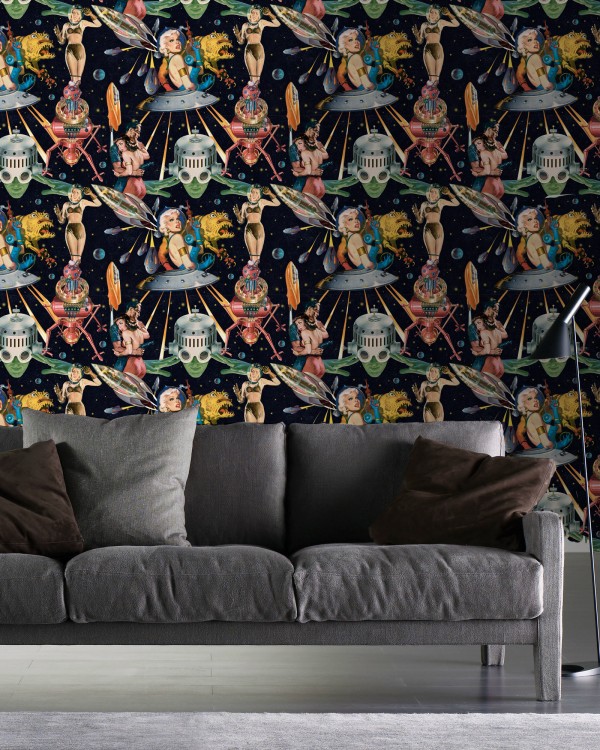 3. For the Spiritually Minded
Those of you with an eye for spiritual designs that tell a rich story of culture will simply adore our Goddess Wallpaper.
This one really does make your walls pop with verve and colour – a striking combination of passionate pinks, gregarious greens, bold blues and ostentatious oranges all combine to create a smorgasbord of dazzling hues.
The Goddess Wallpaper's design takes its inspiration from the Goddesses in Hinduism, beautifully rendered on a black background for that extra eye-catching sense of individuality. This mural makes a wonderful accompaniment to spiritual statues and ornaments that help to make a house a home, such as our Woodo Figurines.
There are no hard or fast rules with this wallpaper – its design is so bold and beautiful, you can afford to really experiment in order to find a match that works for you. This one pulls no punches in the styling department!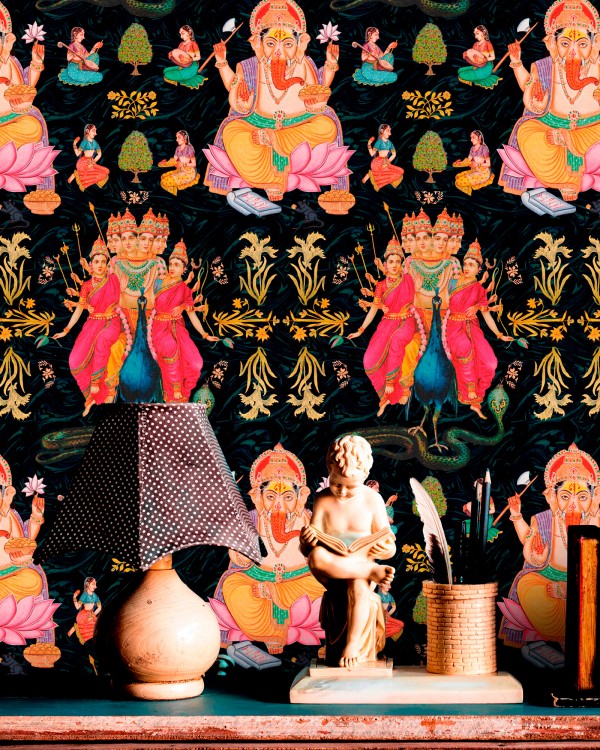 4. For the Modern Art Fanatic
Andy Warhol fans, look alive!
Based on a 1959 Warhol print, our Neon Kiss Blue Wallpaper is a fashion statement like no other. This dazzling, light blue print has the distinguishing feature of a repeating 'lipstick kiss' pattern, festooned in an array of reds, greens, purples and pinks.   
This mural was tailor made for outlandishly retro, mid-century furniture. Grab your boldest blue lounge chairs for an effortless combo, or consider bright yellows if you want to provide a perfect contrast that pops with colour and excitement in your newly refreshed living room.
Modern art fans will love this superbly creative print, a wonderful expression of style through design that has a timeless quality. Curb your conservatism and embrace your creative soul with this truly stunning mural.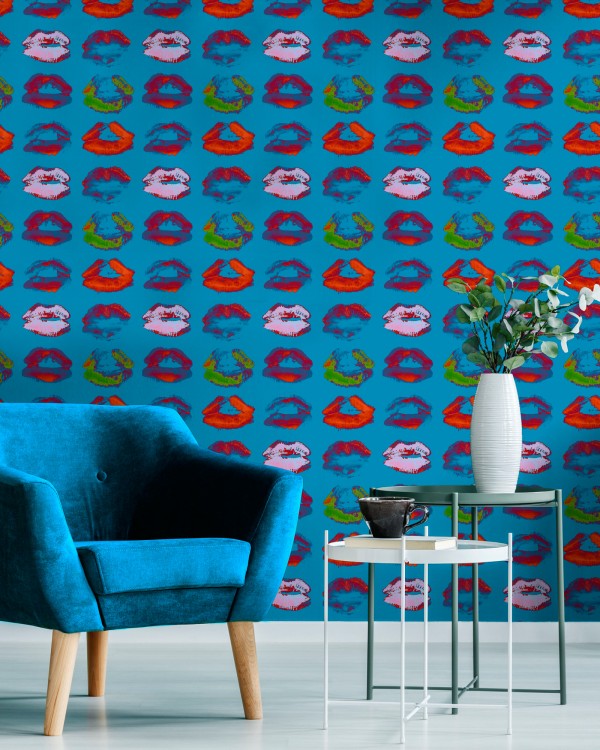 5. For the Nature Lover
We all need a bit of escapism, especially at this time of year. Push those January winter blues aside and start dreaming of distant, warm and exotic lands with our simply spectacular Parrots of Brasil Wallpaper.
Bird lovers and ornithologists alike will fall head over heels for this mural, courtesy of Mind the Gap. Featuring a vivid and lusciously green rainforest scene, various shades of viridian and yellow adorn this busy spectacle, but the real jewels in this crown are the parrots. 
Vivacious red, orange and blue birds are scattered across this gorgeous Brazilian paradise backdrop – lap up the sights and sounds of the exotic South American rainforest, a wonderful way of spicing up any living room or bedroom environment.
Patterned lampshades and retro wooden cabinets are certainly the way to go with this design. Vintage furniture will go down a treat and breathe new life into any area of the home thanks to this lively and intricate mural. You'll be dreaming of distant, tropical lands in no time!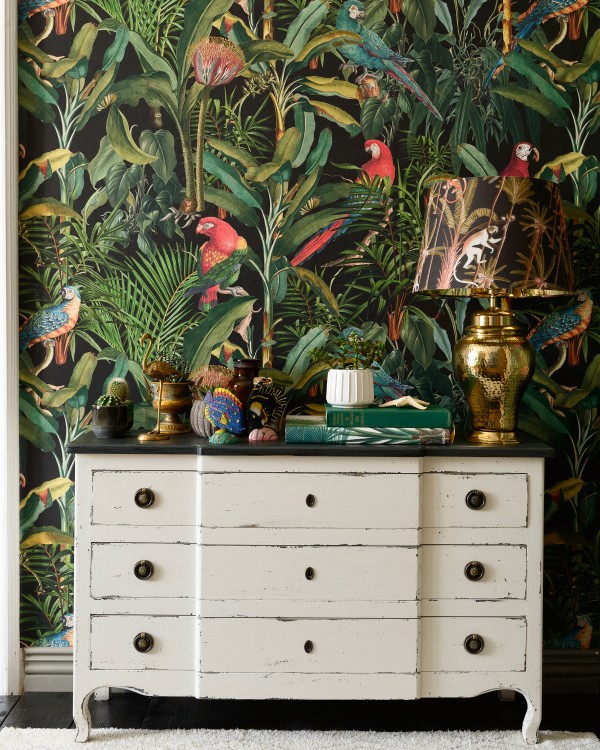 So, a little food for thought in giving your rooms a fresh new look for 2021. Don't forget that these selections are just the tip of the iceberg. Our brand-new wall art section on the WSG website is bursting with quirky designs and sumptuous shades, just waiting to be hung in your own front room!
We hope that you all had a wonderful Christmas, and that 2021 brings us all some much-needed joy and happiness again.
Since we're all spending much more time at home now due to lockdowns and tier restrictions, it makes a whole load of sense to give our walls a revamp so that we're sitting pretty during these tough times. So go on, express yourself!
Stay safe as always Saints.
Feel the Love!