Swipe to the left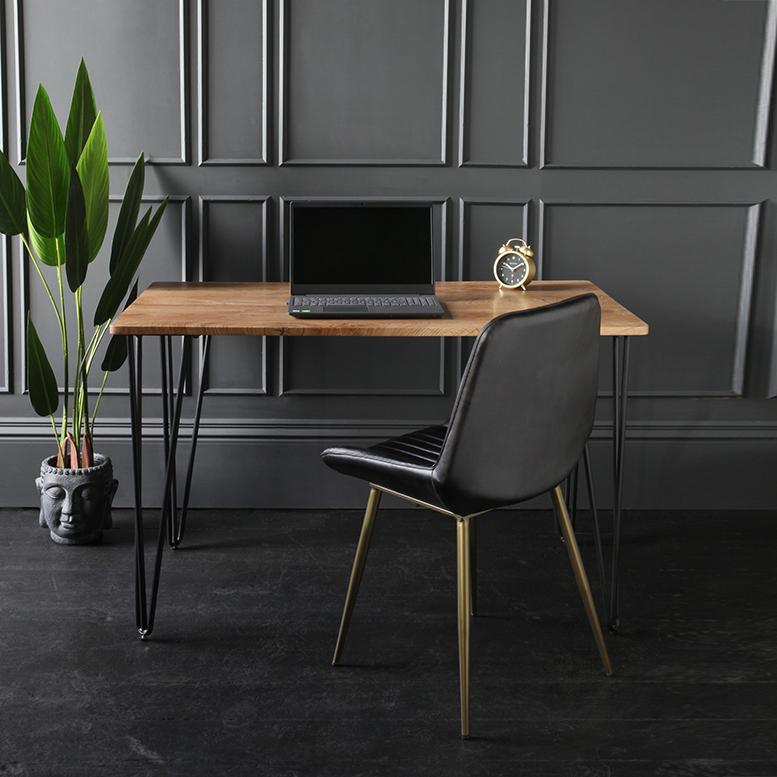 Dining Delights! Which Dining Table Best Suits Your Xmas Party Scene?
Can you believe that Christmas is less than five weeks away? Whether that thought brings you some much needed joy or signals the time to start panic buying, there's no getting around the fact that a large part of your prep for the big day starts now!
Since there's no guarantee of how many guests we can all invite over this year, we've got some brand new, anything but ordinary dining tables in stock that have you covered. We've taken into account a potential rule of six, but we're also well prepared if there's just room for two inside your bubble this year…
1) Keeping it Cosy
Forget the three kings, any wise man will tell you it's the Kingston you'll want this year if you're keeping things quiet on the big day.
If it's just you and a significant other come the 25th of December, (whether due to lockdown rules or just pure choice!) we reckon our gorgeously compact round Kingston Dining Table is right up your alley.
Why?
A round dining table is the most versatile of shapes and can work in practically any dining room, regardless of the shape and size of the space. This style of table is ideal for a more informal, casual style of dining, which is probably the way most of us are going to go this Christmas.
Because round tables don't single anybody out as sitting at the head, this style is perfect for flowing conversations given that everyone is within an equal distance of one another. Kingston has been fitted with an all-natural wooden top and grey metal industrial legs for solid support, so it's well represented in the styling department.
This dining table is perfect for two, so sprinkle the tinsel and sit down to a more relaxing Christmas dinner this year that puts the annual stress-fest on hold!
2. Rectangular Radiance
To quote Simon Pegg à la Shaun of the Dead, in times like these the best plan of action is to "go to the Winchester, have a pint and wait for all this to blow over".
OK, so comparing the COVID pandemic to a zombie apocalypse might not be entirely accurate (especially since the pubs are currently shut) but our Winchester Dining Table more than fits the bill for a Christmas where you can still have a blast.
Why?
Rectangular dining tables are traditional (just like Christmas) but in particular, their long shape is tailor-made for parties and entertaining. They also allow for ease of movement when walking around the sides thanks to their flat edges that don't jut out at an awkward angle.
Our Winchester is an ideal rectangular table for a small group, or could even be used as a side table for snacks and festive hors d'oeuvres if you're planning on going large this year. Either way, the sleek metal hairpin legs are perfect for keeping a low profile whilst the party flows on.
What's more, the natural wooden top adds a sense of real elegance. Dish out the crackers and candles to finish off the festive theme and enjoy Christmas dinner on a table that's more than fit for the occasion.
3. Extended Festivities
Go big or go home! If you're wanting to invite your usual large group around this year (government guidelines permitting of course) then the Oxford Dining Table likes your style!
Why?
A superb surface with rounded ends for both extra styling points and practicality. Just like a redeemed Ebenezer Scrooge on Boxing Day, this table has a pleasant trick up its sleeve.
A simple pull-out extendable mechanism allows the Oxford to add around a third extra space in length, enabling you to add more guests for Christmas dinner! Once the festivities are over, you can easily slot this party piece back into its original form factor to save space. Pretty nifty eh?
The extra room means you can also go wild with the table decorations (some of our pillar candles would go down a real treat!) to really put a smile on everyone's faces. Goodness knows we all need it this year! As seen in the photo, some of our leather Brooklyn dining chairs make the perfect finishing touch to your designer set-up.
4. Back to Black
For a style statement like no other this Christmas, rock your sleek black table vibes with our magnificent Lincoln Dining Table. Traditionalists may baulk at the idea, but thinking outside the box is part of our mentality here at WSG.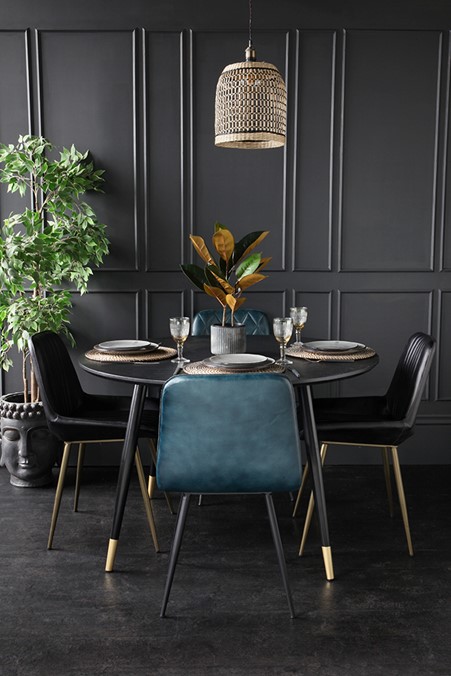 Why?
Easily spacious enough for four, the Lincoln is a terrific solution for a potential lockdown scenario on the big day itself. If you're confined to a strict household bubble cometh the hour, this table is an ideal size for the most important meal of the year.
What better way to serve a designer Christmas dinner than on a sleek black wooden dining table with a gorgeous hint of individuality thanks to the touches of gold towards the base of the legs. What's more, this table is a perfect shade match for our black Brooklyn chairs, so you can colour coordinate to your heart's content! 
Christmas is traditionally a time to think of others, and to invite relatives into our homes for a hearty meal and some festive comforts as we usually bookend the year with a bang.
Things will no doubt feel different this year, but there's no reason why we can't make the extra effort to celebrate and be thankful for the things we do have. Looking ahead with renewed optimism to a brighter 2021 is a great way of channelling our energy into something positive. Let's spread the festive cheer far and wide and keep on keeping on!
Feel the Love!