Swipe to the left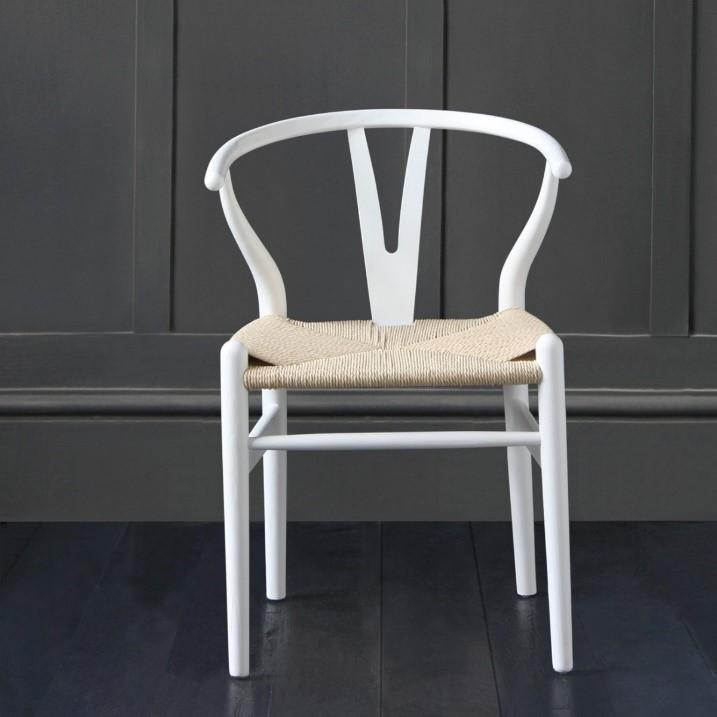 Hans Wegner – A Modern Maestro of Scandinavian Furniture Design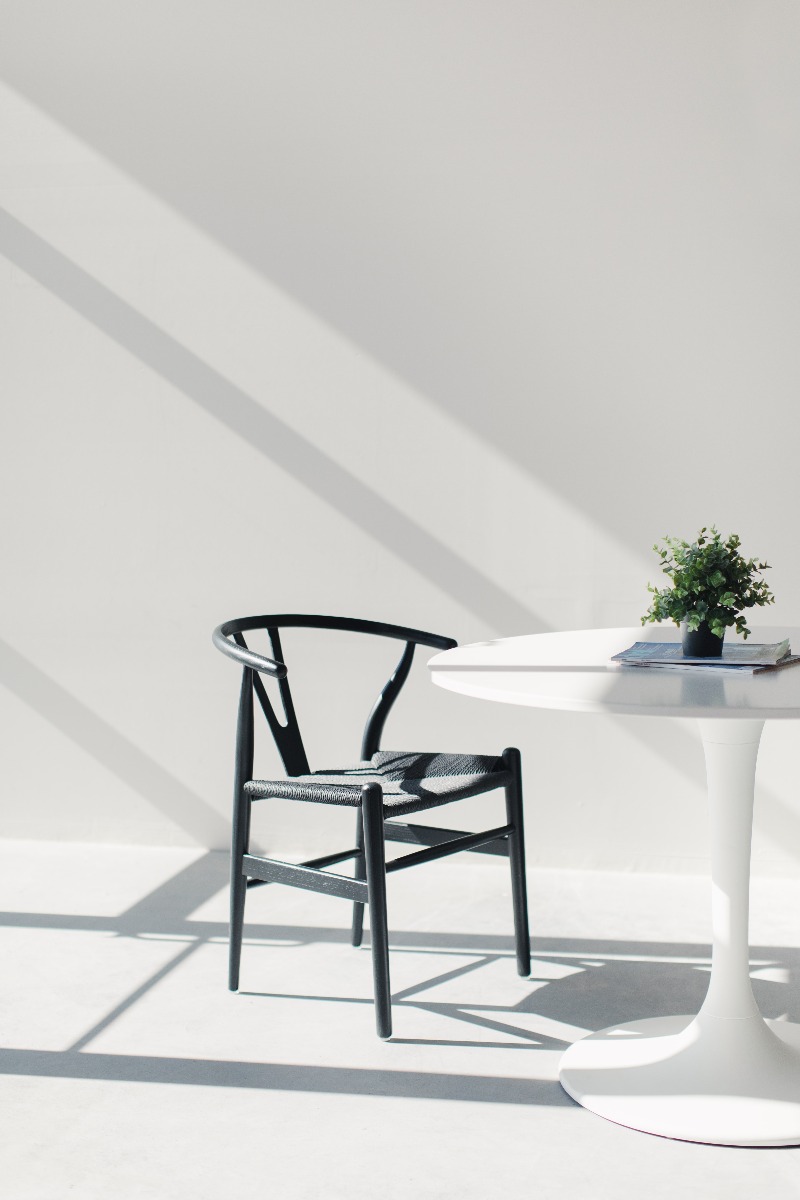 An all-time classic, our very own Hans-Wegner wishbone chairs come in a range of colours and varieties.
There aren't many influencers on modern future design as famous as Hans Wegner. His distinctive style, which places an emphasis on modernist functionality has led to his creative mind extending itself into the living rooms and kitchens of homes all around the world.
His mission statement was simple – elegance meets functionality. This vision, combined with the unmistakable spirit of classic Scandinavian design makes for those incredibly beautiful products that he was responsible for during his lifetime. We stock a variety of one of his most iconic designs, the Wishbone Chair, so you why not place own tribute to the genius himself in your home after checking out our range? But first, let's have a look at the life of the man who helped to define truly great Danish furniture design.
Early Years
"The chair does not exist. The good chair is a task one is never completely done with"
Hans Wegner
Hans Jorgensen Wegner was born on the 2nd April 1914 in Tonder, Jutland, in Southern Denmark.
His father was a cobbler, and it was partly this influence on young Hans that led him to become fascinated by craftsmanship and design from an early age.
Hans soon began working as a child apprentice to H.F. Stahlberg, a famous cabinetmaker. It was through this experience that he became fascinated by the use of wood as a material for making beautiful products, and thus he was bitten by the bug of master craftsmanship.
By the age of 17, his apprenticeship was over but he stayed working in the workshop for another 3 years before enlisting in the Danish army.
Following this, he had a calling to return to his passion for design and artistry. As a result, he then went on to enroll as a joiner at the Technological Institute of Copenhagen, before studying for 2 years at the School of Art, Crafts and Design in Copenhagen between 1936 and 1938.  
It was during his time in Copenhagen that he was surrounded by a wealth of wonderful designers and cabinetmakers renowned for their top quality craftsmanship, and this influence was a vital learning experience, giving him the foundations to go on and become a world-leader in design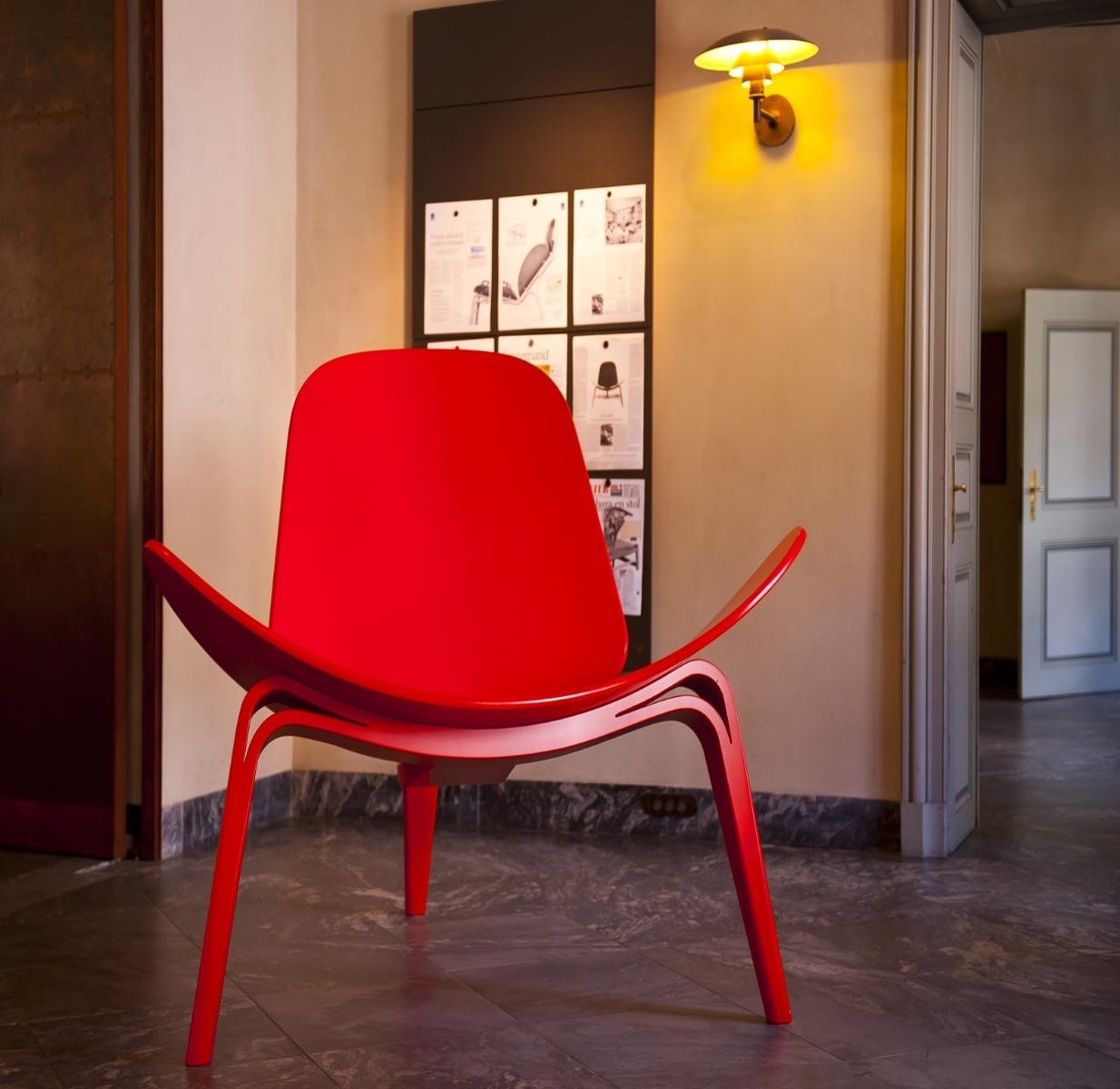 One of Hans Wegner's most influential designs, the three-legged 'Shell Chair'. This example is a permanent exhibition at the 'Designmuseum Danmark' in Copenhagen. It's not hard to see why.
Famous names such as Iversen, Vodder, Hansen and Pontoppidan became familiar to young Hans as he spent his time at Copenhagen's Carpenters' Guild Furniture Exhibits. This was a showcase event that allowed for the experimentation of such celebrity designers to exemplify what beautiful products could be devised and crafted, and it had a profound influence on Hans.
So much so, that it prompted him to embark on the journey of becoming a furniture designer himself so that he could eventually design and sell his own works. The seeds for becoming a master craftsman had been sown.  
Some of his early works already began to demonstrate his unique vision for how furniture should be made. He designed an armchair with armrests that sloped like relaxed wrists that went on to be exhibited at the Museum of Decorative Arts in 1937. The design itself epitomised Hans' notion that a chair should appear in its purest form factor, whilst being as functional as possible.
Hans even went on to be tasked with designing the furniture for Aarhus City Hall in Aarhus, the second largest city in Denmark. This was when he was under the employment of renowned modernist Danish architects Erik Moller and Flemming Lassen, and later Arne Jacobsen.
Mid Life
"I have always wanted to make unexceptional things of an exceptionally high quality"
Hans Wegner
By 1943, Hans Wegner had established his own office which soon led on to him designing one of his first major products; the Chinese Chair.
In 1950, the American magazine Interiors described Hans' cane-seated 'Round Chair' as "the world's most beautiful chair". Not a bad accolade to have at the age of just 36. This chair even went on to be used in the 1960 US Presidential Debates between John F. Kennedy and Richard Nixon.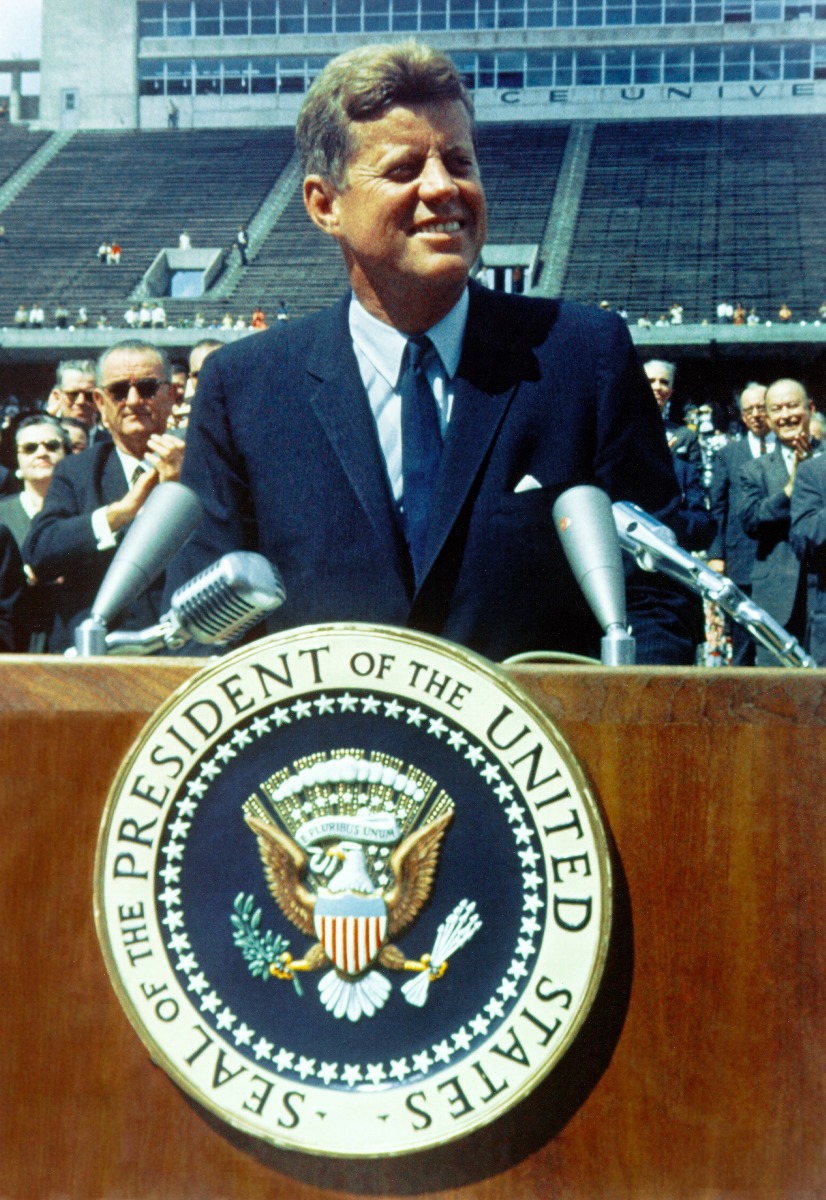 John F. Kennedy, who of course went on to win the 1960 US Presidential Election, was one of the first 'celebrities' along with Richard Nixon to use one of Hans Wegner's chairs on live TV. Pretty decent publicity, wouldn't you say?
Around the same time, and perhaps Hans' most famous design, the Y-backed Wishbone chair was released in 1949 to universal acclaim. This legendary product, along with several of his other renowned and much-celebrated designs were made exhibits in several world-leading museums and art galleries, including the Museum of Modern Art in New York and the prestigious Copenhagen Museum of Art and Industry.
The Y-backed Wishbone Chair is such a gorgeous design that we stock no fewer than 11 variants, each with a different frame or seat finish. Offering chair designs in everything from natural ash, aged elm, dark oak and several bar stool varieties on the same theme, we've got you covered for when the influence of this master craftsman is too tempting. Follow our link here to see our full range of wooden Wegner wonders.
Later Life
"Many foreigners have asked me how we made the Danish style. And I've answered that it… was rather a continuous process of purification, and for me of simplification, to cut down to the simplest possible elements of four legs, a seat and combined top rail and arm rest"
Hans Wegner
By 1951, Hans Wegner picked up the prestigious Lunning Prize, an annual award given to prominent Scandinavian designers as selected by a group of peers from the Nordic countries. By now, his career was really gathering momentum.  
He soon went on to teach his craft at the School of Art, Crafts and Design. When asked to explain his distinctive approach to design, his responses were twofold:
1.     Design is a "continuous process of purification to cut down on the simplest possible elements".
2.     "A chair is to have no back side. It should be beautiful from all sides and angles".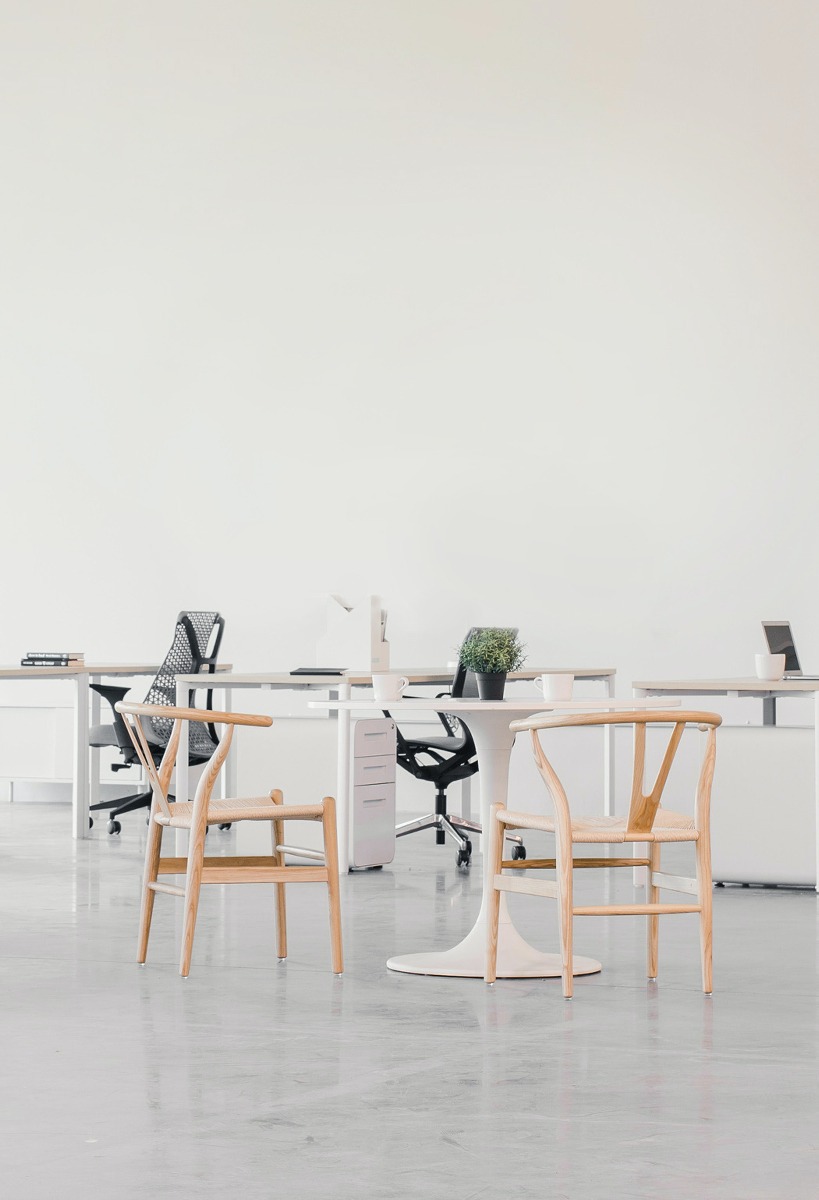 An iconic design, the Y-shaped Wishbone Chair is a global favourite. We love it too - check out our WSG stunning range of them!
In essence, his eye for design was one more akin to an artist than anything else, actively engaged in seeking the most aesthetically pleasing features of furniture without compromising on ergonomic practicality.
More so, it's arguable than the artistic nature of a chair should go hand-on-hand with practicality – the more minimalist and elegant a product looks, generally speaking the more ergonomic is will likely be in its most natural form.
Hans also went on to win a whole host of other awards, including the Swedish 'Prince Eugen' medal and the Danish 'Eckersberg' medal.
His appetite for continuously designing and creating new products ensured that he carried on working until eventually retiring from public life in the 2000s, by which time he had reached his late-80s.
Hans Wegner's approach to design can be echoed today in different forms. For example, Apple products are founded on Steve Jobs' vision of elegance meeting practicality and ease of use. A pleasing blend of top-grade manufacturing and cutting-edge artistic design makes for a user experience that's hard to replicate. 
For this reason, it's easy to see how Wegner has influenced the design world of today, along with his own timeless creations that are loved the world over by style enthusiasts and fans of all things beautiful. His style epitomises the saying; "less is more", and this notion is echoed throughout the world of marketing and fashion wherever you look.
We hope you've enjoyed our little biographical post this week on an industry trend-setter as influential as Hans Wegner. Don't forget, we stock a bunch of his gorgeous Wishbone chairs on our website, so you can deck your pad with the very finest of Scandi-styling and bring a taste of Hans right into your home. The only tricky part is choosing your favourite colour!
That's all for now saints. We'll see you next week.
Feel the Love!