How to Get Your Walls Autumn Ready: 5 Wallpaper Designs to Try This October
The winds of change have arrived, Saints! After the heady days of summer, we're rapidly moving into the autumnal side of things as we head into October.
Since we offered up some of our finest velvet furniture ideas last week, we thought it'd be a great idea to follow up on the current autumn trend with another dead easy way of transforming your interiors – wallpaper.
Giving your living room, kitchen, bedroom and dining room walls a brand-new look can have a transformative effect on your home. Compared to a basic painted wall, wallpaper makes for a unique expression of style thanks to the varied choice of intricate designs, colour blends and visual patterns out there.
Choosing a wallpaper design that perfectly represents you is key – after all, we've all been spending a lot more time at home over the past eighteen months, giving us scope to be extra creative with the same four walls we've been staring at!
Last week's blog post focused on velvet furniture, whilst keeping to the traditional autumnal colours of burnt orange, yellow, brown, red and purple.
Sticking to the same theme with wallpaper is certainly a strong option for autumn, but don't feel too constrained by the colours mentioned above. Since wallpaper can be tricker to change than furniture, it's often recommended that you aim for a versatile design that can look great all year round.
We've chosen five different wallpaper themes for you to consider, some more seasonal than others. So, depending on your style preference, let's see which one takes your fancy!
1. Bring in the Botanicals
OK, we're kicking things off with a bit of a wild card option. If you're not the greatest fan of all things brown, there's nothing stopping you from carrying the summer colour-fest into autumn as well!
Botanical based wallpaper, especially decorative murals, are a fantastic way of bringing the outdoors inside and keeping your walls looking bright, green and lush. Nature-inspired patterns never go out of fashion, which is why we reckon our Parrots of Brasil design is perfect for all you Saints searching for a tropical paradise to see you through the colder, darker months of the year.
Tropical themes have been extra relevant for 2021 especially – lockdowns have put holiday travel plans on ice, requiring us all to look for alternative means of 'warmer-climes' inspiration.
The green of the plants combined with the striking reds and blues of the Macaw parrots in this exotic scene infuse instant life into any room.
If classic autumn themes aren't your cup of tea, transform your living room into a tropical paradise instead!
2. Groovy Geometrics
Finding order in chaos! If the lockdowns of the past year and a half have left you feeling a little out of place, a geometric design will restore some much-needed calmness and uniformity to your interior.
If your walls demand attention, then oh boy do geometric shapes deliver in that regard… The consistent pattern is an eye-catching design for you to focus on, offering a pleasing aesthetic to your style spaces. Such a unique design can transform either a single wall, or an entire room if you're feeling brave.
We've got a few autumnal themed geometric wallpapers on the WSG website, such as our Delano design in both yellow/black and gold/black.
But if you want to keep the multi-coloured theme going strong into autumn and winter, our Coloured Geometry Wallpaper will be right up your street. The mix of pinks, reds and blues have a delicate pastel shade to them, offering up a distinctive modern art vibe in surreal 3D cube form. Just be extra careful when applying, as everything needs to be lined up perfectly for this visual effect to work correctly.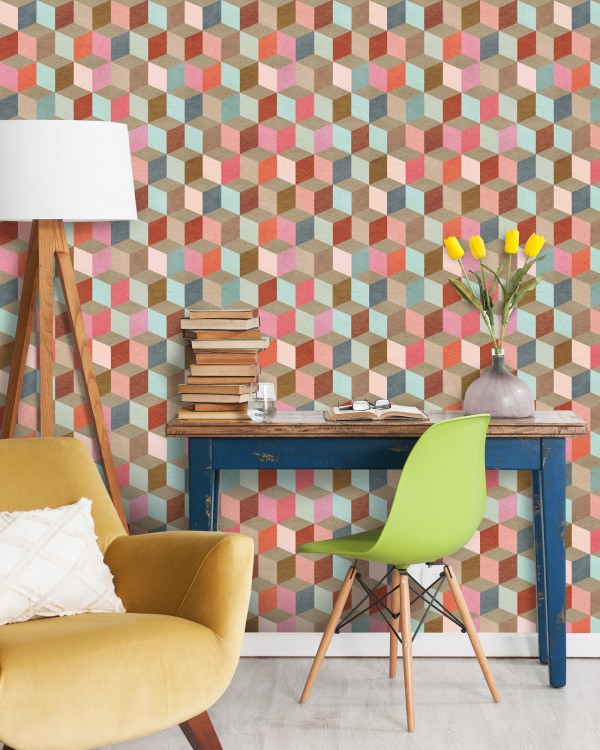 3. Warm Autumn Hues
For the traditionalist, nothing screams autumn like the glowing warm hues of brown, yellow, orange and gold.
As far as 2021 wallpaper styles go, warmer neutral tones are very much in vogue. The cold greys of yesteryear have given way to rich browns and yellows, whilst Eastern influenced designs are also hugely popular at the moment – with this in mind, we have just the style for you!
A design such as our Kaftan Wallpaper offers up a treat of such shades, with an exotic twist. Based on an ancient textile design that originated in Mesopotamia, the large and ornate leaf patterns (how very apt for this time of year) are broken up by smaller, intricate shapes that make up the cool blue hues of the backdrop.
With this design, don't be afraid to mix different patterns to reflect the varied textures of autumn. You could even mix striped and floral designed furniture in but be careful not to make the scene look too busy. Choose patterns and textures that complement each other to create a calming, seasonally appropriate setting in the living room or bedroom.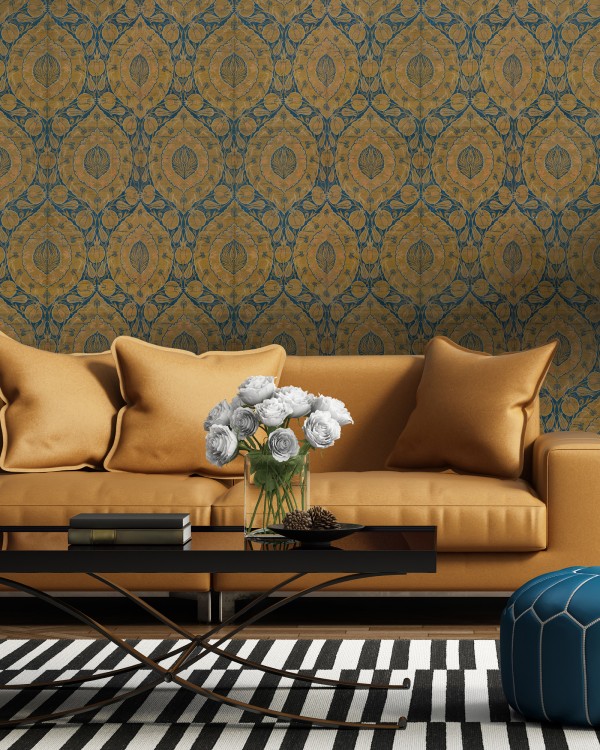 4. Trompe-l'oeil Textures
French for quite literally, 'trick of the eye', Trompe-l'oeil designs are all about optical illusions that create texture in a room without having to shed out for real, yet expensive materials.
For example, our Bazaar Wallpaper evokes an Eastern-influenced mosaic tile effect, minus the tiling! Four gorgeous quadrants, each with a subtly different design, come together to give your bedroom or lounge walls the upgrade they deserve.
Equally, if you've got a room that's lacking interesting shapes or influences, Trompe-l'oeil wallpapers are fantastic at adding interest to relatively sparse spaces. You could save Bazaar for rooms with minimalist design elements in need of a little extra creativity.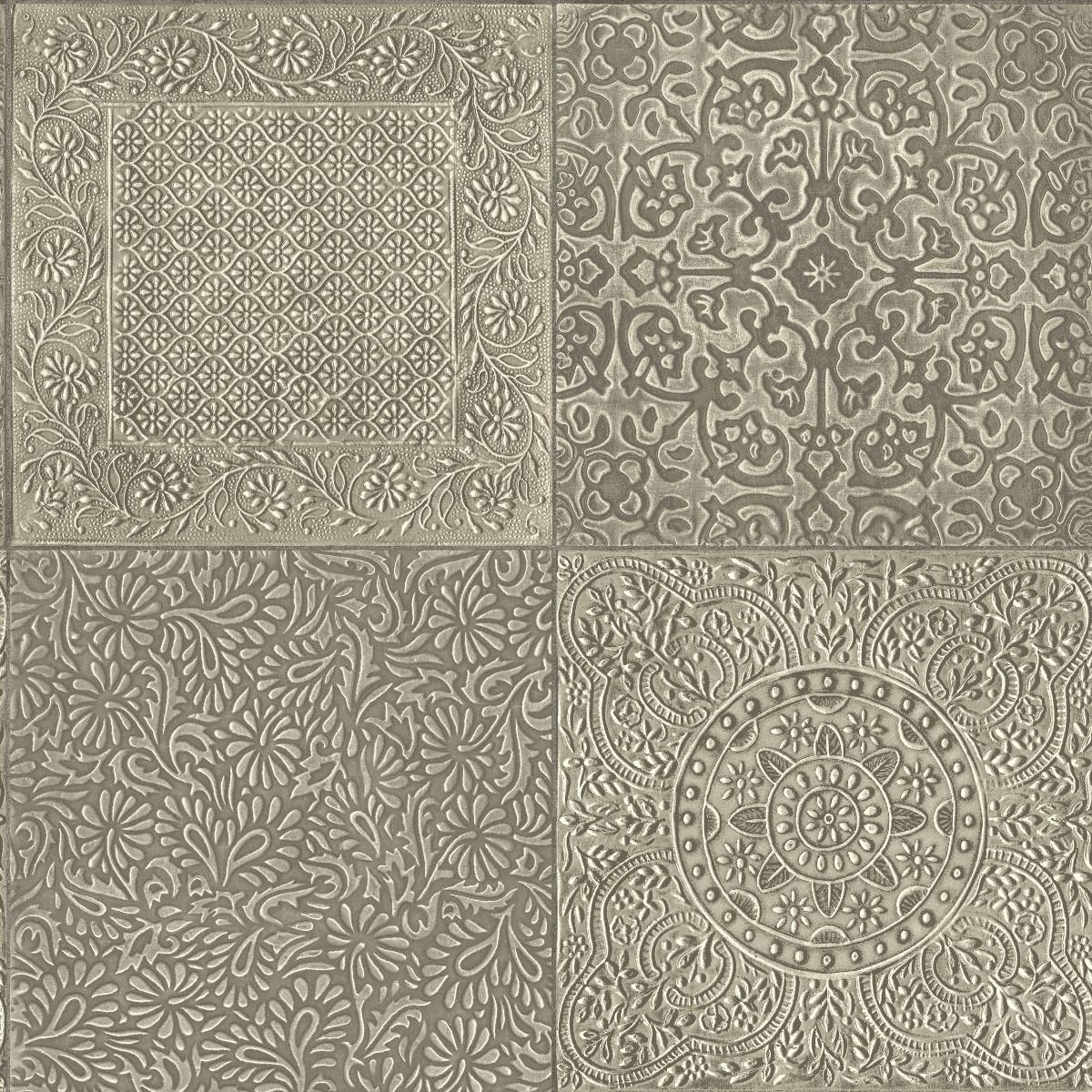 Either way, the Persian warmth of this wall art delivers burnished tones and an elegant lustre to your interior, without going OTT. A sensible choice for autumn, this is a versatile design that doesn't look out of place at any time of the year. The perfect excuse for keeping it up for a few years, we reckon!
5. WFH Wonder
Whether you're still working from home or have a home office reserved for occasional study, a little extra WFH inspiration never goes amiss.
The warm hues of autumn match up really nicely with wooden furniture, but do you know what else goes perfectly with wooden furniture? Our Math Wallpaper of course!
Featuring a pleasingly neutral cream and beige backdrop, this design is a winner by our calculations! Deliberately scrawled all over this wall art is a smattering of mathematical and scientific calculations, giving your home office or study a thematically consistent tone.
If wooden decor isn't your thing, you could opt for some striking accent furniture to contrast against the pale tone of this wallpaper. Something from last week's velvet furniture blog could be just the ticket, such as our black Tiffany Dining Chair.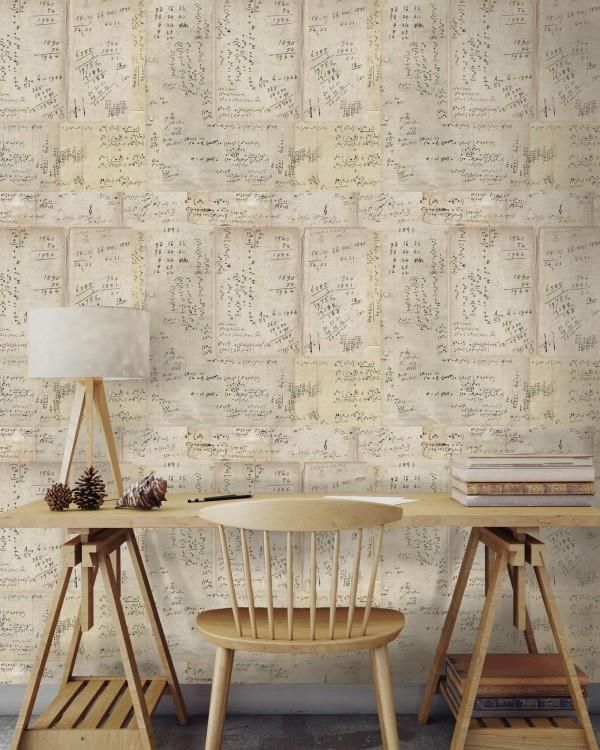 Final Thoughts
As demonstrated throughout this post, autumn decor doesn't have to revert to type.
Whether you're into textures, bold Eastern influences, classic autumn hues or geometric clean lines, the rule is that there are no real rules when it comes to wall art. Just be smart when it comes to the furniture you decide to match up with, but don't be afraid to break the mould when looking to refresh your space.
Wallpaper can have a transformative effect on any room, so have fun choosing your unique sense of style. We have plenty more terrific designs on the rest of our wallpaper section of the WSG website, so go get browsing for your latest and greatest piece!
We hope you've enjoyed our wall art theme for this week. Have you got any exciting plans for autumn? Pumpkin season is just around the corner Saints!
Feel the Love!