Swipe to the left
How to Pick the Perfect Bedside Table
The bedroom is the one area of the home that is uniquely personal to us all. Its closed-off nature allows us to be more expressive here than anywhere else, giving us the time and space to incorporate truly dazzling décor.
Bedside tables serve both a stylish and functional purpose. That's why it's so important to choose the best possible design that works for you. A happy bedside table often leads to a happy bedroom!
We've handpicked the following designs as trends to incorporate into your boudoir that speak volumes in terms of their style.
What's more, we'll soon be adding a bedside table line up to our ever-growing range of anything but ordinary products, so watch this space! Here's our pick of some of our favourites right now:
1. Craftily Compact
If you're looking for a bedside table that combines a classic design with a minimalist, compact form factor, you won't go far wrong with this space-saving design.
Made from sustainable wood, this open shelf designed table has just enough space for your possessions, a second surface down at the base for extra bits and pieces, and a single drawer for personal belongings.
We love the simplicity and neatness of this table. Ideal for smaller bedrooms, this bedside table can easily sidle up into compact corners, providing that delicate balance between form and function.
The gorgeous charcoal grey colour on display here goes with so many different shades - there's no wonder that it's one of the most popular neutral colours. It's the ideal accent shade that doesn't look too drab or dark. You could pair it with a black and white theme to soften the look of the room, or alternatively match it up with a weathered wood effect if you're extra feeling confident.
Photo by: M&S - Hastings Small Bedside Tables
2. Bedroom Bohemia
Sneak peek alert! We're looking to add this design to our new range very soon.
This rattan and natural wooden beauty by Urban Outfitters is a refreshing way of either complimenting or starting your very own bohemian trend in the bedroom.
Table designs don't come much more bohemian than this – the woven rattan top and front pay homage to rattan garden chairs renowned for their classic styling, whilst the unique front hatch opens up to allow you to stash your essentials inside a particularly roomy hideaway. The boho vibes flow strongly with this one!
Rattan is also a terrific texture to contrast with an upholstered bed that needs a little something to lift its sense of character. There's an unwritten rule in interior design that you can never have too much texture – a bedside table of this variety can do wonders for your bedroom.
Photo by: Urban Outfitters - Marte Rattan Side Table
3. Shake it up, Shaker Style!
If you're looking for a clean, natural look, look no further than these shaker style nightstands by the Natural Bed Company.
Effortlessly conveying a smooth, mid-century image, these tables are made from exotic meh wood, also knowns as Indonesian suar wood. Renowned for its durability, suar wood is the ideal material for this type of furniture.
This design is also uber-functional, offering the usual drawer and top surface for your belongings, as well as a spacious second section down below for any extra comforts you may feel the need to store. This style of bedside table works wonders in a rustic, farmhouse designed bedroom, but can also easily compliment a Scandinavian feel. 
Wooden tables are so versatile and can be used to suit a variety of different moods. 
Photo by: Natural Bed Company - Mid-Century Look Bedside Tables
4. Industrial Influence
If wood isn't your thing, this beauty as displayed by Ham Interiors is a fine example of industrial bedside furniture with bells on! (Metaphorically, at least – bells not included…).
When you're venturing down the all-metal route, this bold, black design is just the ticket for infusing some eye-catching mid-century tones throughout your sleep spaces. The tall, narrow form factor of this table allows for multiple levels of shelving, enabling you to brandish your books and various other accessories in real style!
The metal lamp used in this example image is the perfect type of industrial accessory for this style. Storage and good looks go hand in hand with this elegant design.  
Photo by: Ham Interiors (Portfolio Image)
5. Wide Solutions 
A bedside table need not be compact. Depending on the size of your bedroom, sometimes we need a nightstand that is ready to handle whatever we can throw at it.
This spacious side companion, as seen on Studio McGee's website, is around the same length as a normal side table you would use in the living room or dining area, perfect for taking on a generous array of items.
Going for a contrast in colour is always a great way of showing off your nightstand, especially wooden varieties. The deep black of this example stands out beautifully next to the much lighter wooden tone of the bed.
You can see that this table is also at virtually the exact same height of the bed – this something to bear in mind, as a surface that is too high or too low can often make for awkward reaching, especially in the dead of night.
One golden rule to remember - always do your measurements beforehand!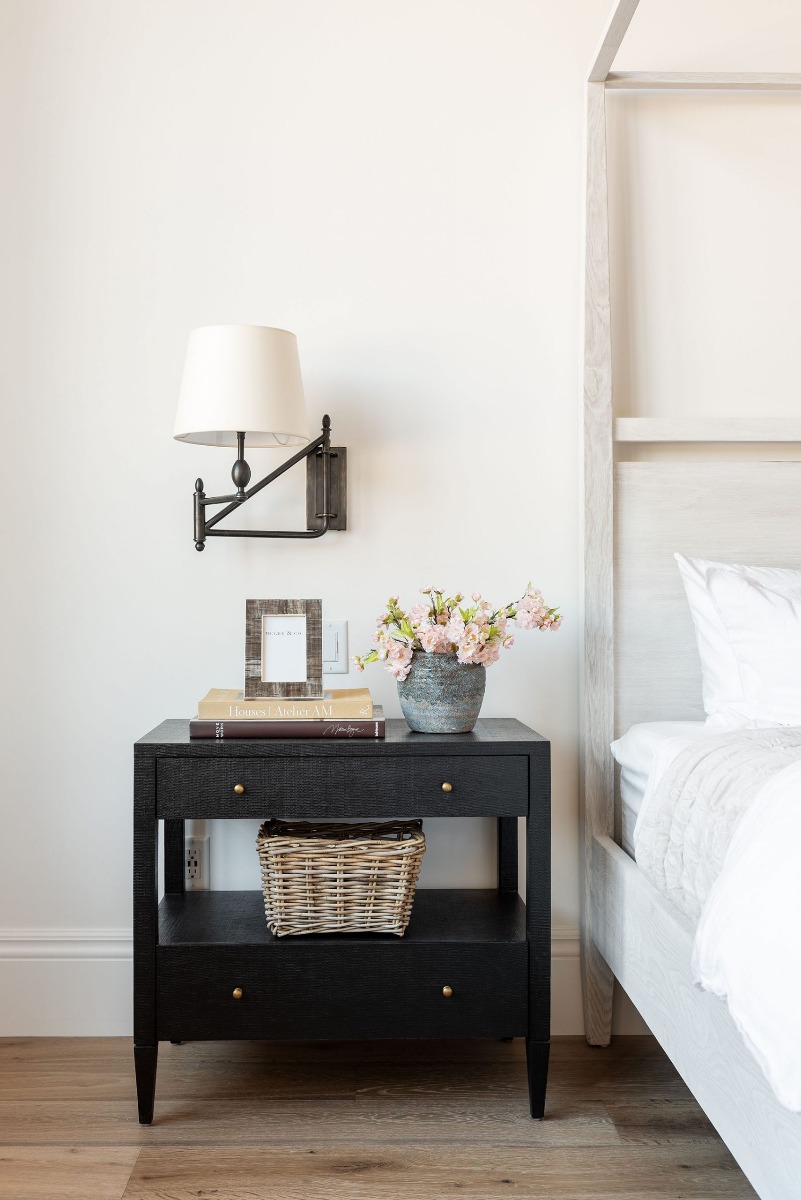 Photo by: Studio McGee (Portfolio Image)
6. Stupendous Storage
The perfect mix of durability, style and storage, this final offering by Studio McGee ticks pretty much every box on the list.
This 'chest of drawers' style table has plenty of open space up top and down below for everything you need to hand, and can be doubled up as a storage solution for so much more thanks to its spacious drawers.
If you're struggling for space elsewhere in the bedroom, you can stash plenty of belongings in a nightstand of this size and stature, whilst the light, neutral tones also bring some real warmth into the room.
This extra-large sizing also allows you to display plenty of supplementary accessories, such as a houseplant or two, a candle, photo frame or anything else that brings a personal touch to the room.
Photo by: Studio McGee - Kelan Bedside Table
We hope that we've got you thinking about some great designs for your next bedside table, taking all the different factors into account regarding size, space, colour and theme.
Don't forget, we'll soon be launching a brand-new range of nightstands on the WSG website, so it won't be long before you'll be sizing up for a new addition to your Saints collection!
Feel the Love!