Where Saints Go for the Weekend: Milan
Heralded by many as the true fashion capital of the world, it's little wonder that Milan is one of the most visited tourist destinations in Europe.
Over 11 million people flock to this northern Italian gem each year, a city that is second only to Rome in terms of population density in the country.
Whether you're on the hunt for designer goods down Via Monetnapoleone, soaking up the history at the Duomo di Milano (cathedral) or grabbing a cocktail or two in style, Milan has something for everyone.
Our co-founders, Mark and Tracey, paid a visit back in September and loved every minute of their trip! A city that's tailor made for our Saints, this week we've put together a whistle-stop tour to ensure you sample the very best of what this metropolis has to offer.
Since Italy is no longer in lockdown, now is the perfect time to grab a weekend break in one of Europe's hotspots.
Without any further ado, grab your designer shopping bags and let's get started!
Where Saints Go for Culture
1. Duomo di Milano
Without a shadow of a doubt, you cannot visit Milan without visiting its internationally renowned cathedral.
Construction began on this breath-taking feat of human engineering back in 1386, taking almost six centuries to complete! As they say, if a job's worth doing, it's worth doing properly…
The largest church in Italy and second largest in the world is situated smack bang in the middle of the city, a landmark for all to see inside the Piazza del Duomo – the main city square in Milan.
Topping off at 108 metres (354 ft), this brick and marble masterpiece features a staggering 135 spires, as well as the most statues of any cathedral in the world. Highlights include the Saint Bartholomew Flayed statue just to the left of the altar inside, a gleaming gold Madonna (Madonnina) at the top of the building, as well as a trip to the rooftops just before sunset.
If you've got a head for heights, you'll be treated to a front row view of the city and the surrounding region of Lombardy that's not to be missed should you take the climb.
Entry starts at €5 for adults and it's highly recommended that you book online (this is to help avoid crowds forming during these strange pandemic times). You'll also need a COVID pass for anyone aged 12 or over. Trust us, it's worth the getting the paperwork right once you get inside!
2. Leonardo3 Museum
Leonardo Da Vinci was a genius, to rather state the obvious. Perhaps most well-known for his paintings such as the Mona Lisa and The Last Supper, he was also an incredible engineer, scientist, theorist, sculptor and architect during the Italian renaissance. That's quite the CV!
Milan's 'Leonardo3 Museum' has loads to offer for anyone wanting to get a glimpse into this unique mastermind.
Festooned with working models of Da Vinci's machines and over 200 interactive 3D reconstructions of his exhibits, this museum celebrates his wonderful engineering craft and 'ahead of their time' designs.
Tickets cost €12 for adults and can be bought either online or at the entrance. It's a wonderful way to spend half a day and sink your teeth into a truly mind-blowing collection of a lifetime's work.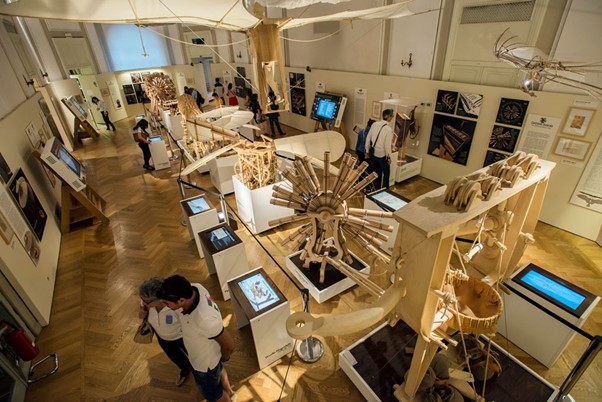 Credit - its4kids.it
3. Banksy Exhibition
If modern 'street art' is more your cup of tea, then Milan caters for your needs perfectly.
Running until the end of October, this celebration of the anonymous graffiti artist who has fascinated the public since his emergence in the early 1990s is not one to be missed.
So much so, that Mark and Tracey paid this place a special visit during their trip last month.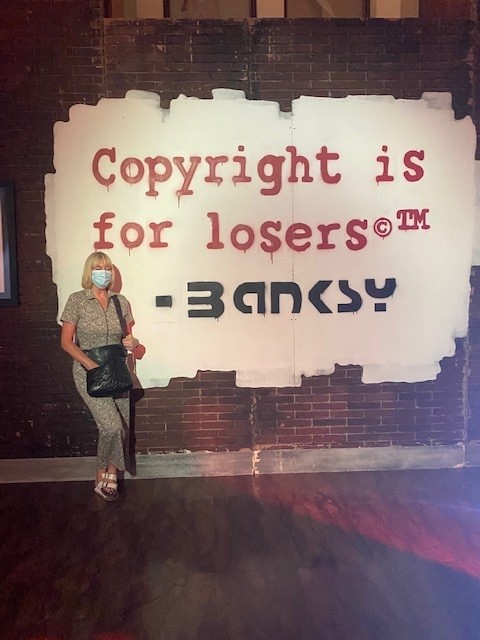 Tracey was certainly a fan of this ironic piece, as you can see above!
This exhibition features more than 60 pieces of Banksy's work, and 30 murals inside 'The World of Banksy – The Immersive Experience'. This contains both private property works and clever reproductions of some of his most famous murals by anonymous artists.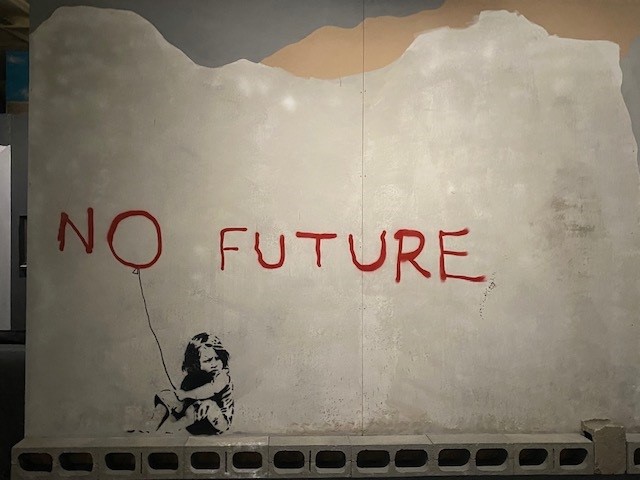 The ironic, sarcastic and often politically motivated inspiration behind his works is perfectly illustrated in this rich exhibition, a real treat for modern art lovers.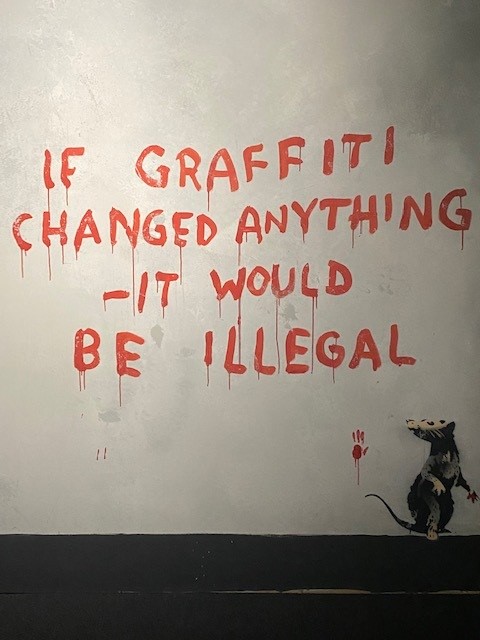 Tickets start from €14.50 and can be bought online for quick entry. Mark and Tracey were huge fans of this exhibition, so it certainly gets the Saints seal of approval from us!
Where Saints Go to Shop
You can't visit the fashion capital of the world without doing a bit of designer shopping, Milan style!
1. Via Monetnapoleone
Famous for its high-end boutiques and vast selection of Gucci, Versaci, Armani, D&G and Marchesi, take a trip down Via Monetnapoleone for more designer brands than you can shake a stick at!
Described as the beating heart of the fashion capital, this street plays host to a plethora of international fashion houses and pays homage to authentic Italian design.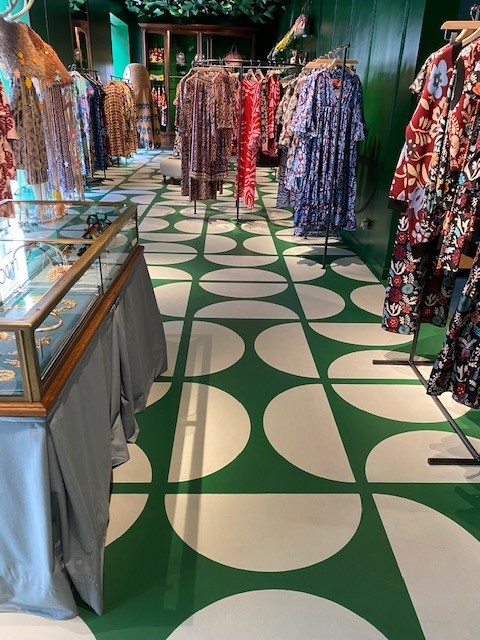 Mark and Tracey found time to browse in several designer boutique and high-end stores, such as this American designer clothes shop in the image above.
2. Galleria Vittorio Emmanuele II
For a little more historical grandeur, the Galleria Vittorio Emmanuele II is the oldest shopping gallery in Milan, dating back to 1877.
Whilst you explore the goods inside flagships such as Louis Vuitton and Prada, don't forget to look up! The glass dome that overlooks the gallery is a real spectacle - its lengthy construction was the result of international cooperation and was certainly worth the effort!
Grab your fill of both architectural beauty and designer goods in one fell swoop inside this shopping centre of all shopping centres!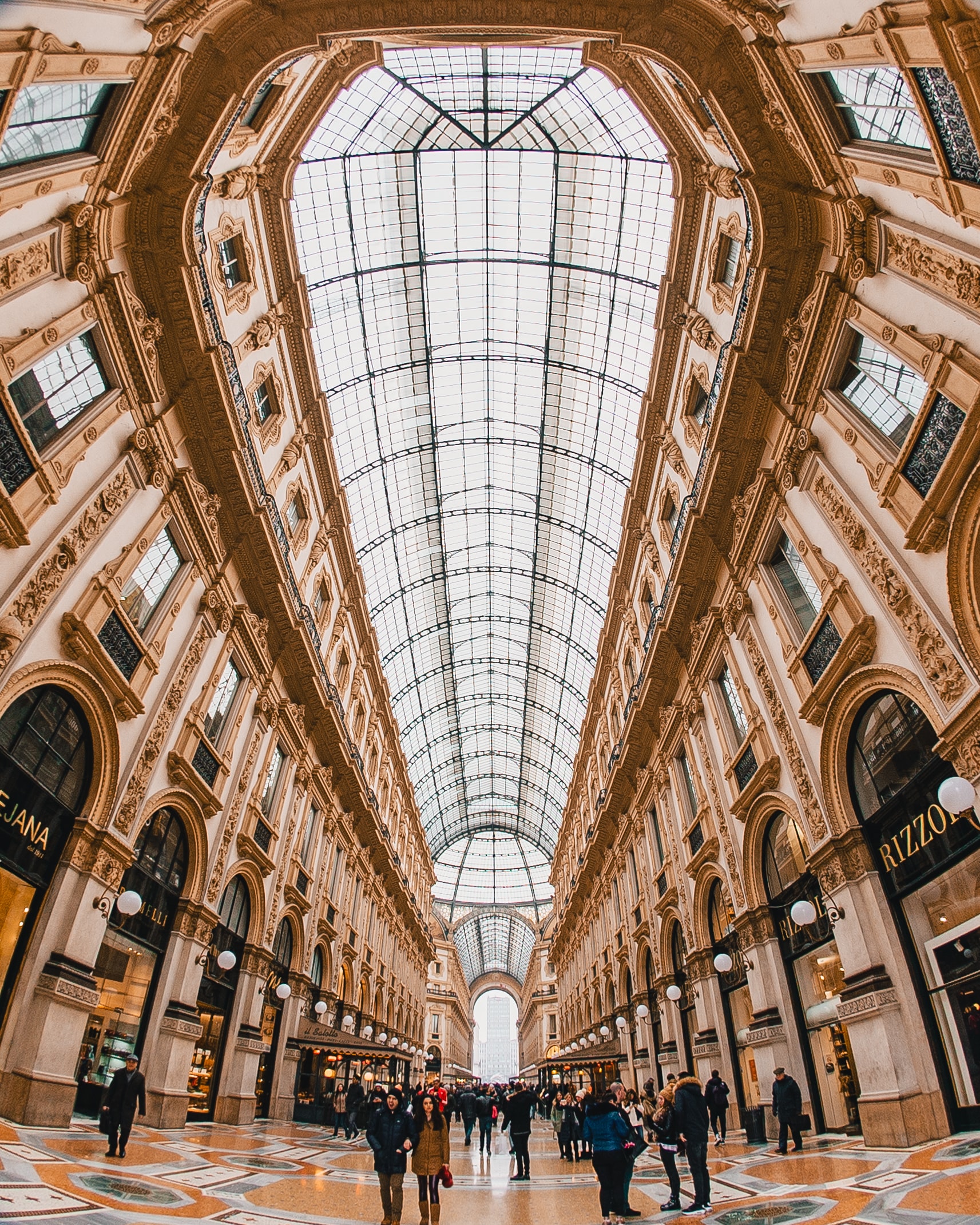 Where Saints Go for Food & Drink
Once you've had your fill of the sights and sounds of Milan, it's time to kick back and enjoy a drink (or three) inside this city's eclectic selection of bars and restaurants.
1. The Doping Club
Quirky by name, quirky by nature, this beautiful bar located inside luxury hotel Aethos Milan in the centre of the city is quite the spectacle.
Featuring very 'Saints-esque' furniture (from distressed mid-century stools to cantilever chairs), The Doping Club is one watering hole not to be missed. With vintage bicycles and road signs up on the walls, Art Deco lamps and colourful velvet armchairs aplenty, this bar may look rather familiar to all you WSG furniture fans!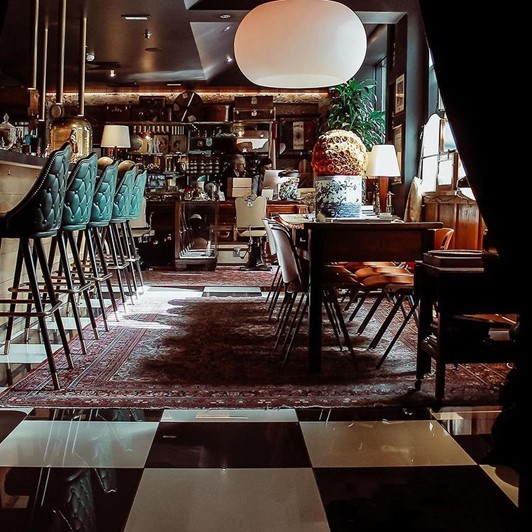 Credit - @thedopingclubmilano
In terms of drinks, they have 'bar chemists' that take patrons "on a journey through a variety of cultures and tastes, incorporating herbs, botanicals and homemade spirits".
Sounds delicious! For a bistro bar experience like no other, make sure to give The Doping Bar a visit during your jam-packed Milan trip. Who knows that cocktail concoctions you might stumble across?!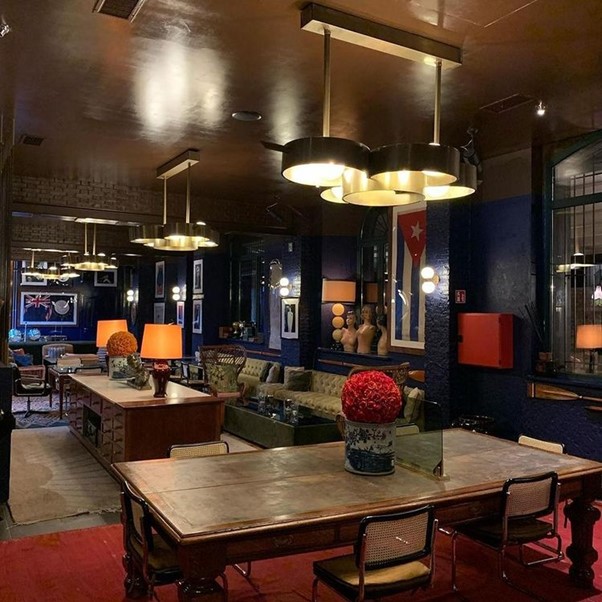 Credit - @thedopingclubmilano
2. Nobu Milan
Finally, it's time to finish polish things off with some world-famous sushi! Having opened in 2000, Nobu Milan (located on Via Gastone Pisoni) specialises in serving up a feast of Japanese sushi to both Milanese locals and tourists alike.
Chef Nobu Matsuhisa is immensely proud of the authentic dishes that they serve up here, from Yellowfin with Jalapeno to Black Cod with Miso, Tiradito Nobu Style and many more.
The décor is also a wonder to behold. Cleverly fusing an Italian Armani style with distinctly Japanese touches, Nobu is at the sharp end of restaurant interior designs. Check out their striking bar section below!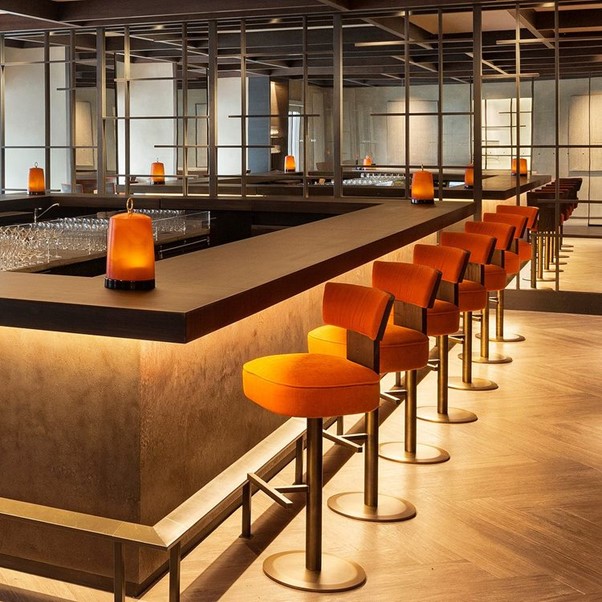 Credit - @nobumilano
Final Thoughts
Milan is a city of wonder. The places we've recommended you try out in this blog post are just the tip of the iceberg inside a location that perfectly combines old with new.
If you're scratching your head for weekend trip inspiration, then look no further than Italy's second biggest city.
We hope you've enjoyed our culture blog post this week, and that you're packing your bags as we speak.
Addio per ora, Santi!
Feel the Love!