Swipe to the left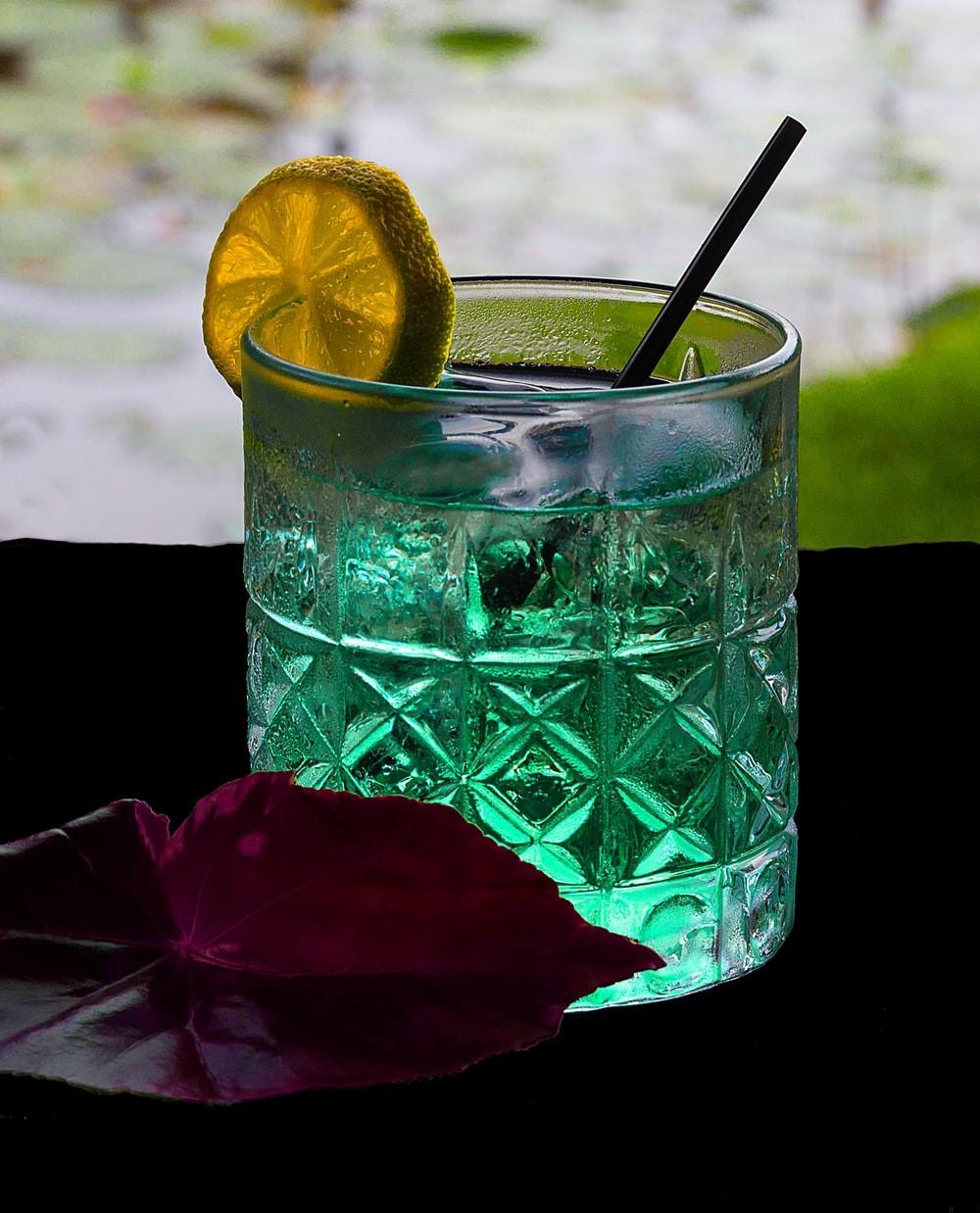 Where Saints Go to Drink – A Cocktail Bar Special
Despite COVID-19, there's no substitute for treating yourself to a professionally crafted cocktail in a high-end bar. So, we thought that to round this summer off on a high, we'd let you in on our top picks from around the country where you can enjoy a premium tipple or two in luxurious surroundings. Supporting local businesses is a great idea during these tough times. We'll also be giving some top cocktail recipes for you to try at home too. Without further ado, let's get mixing!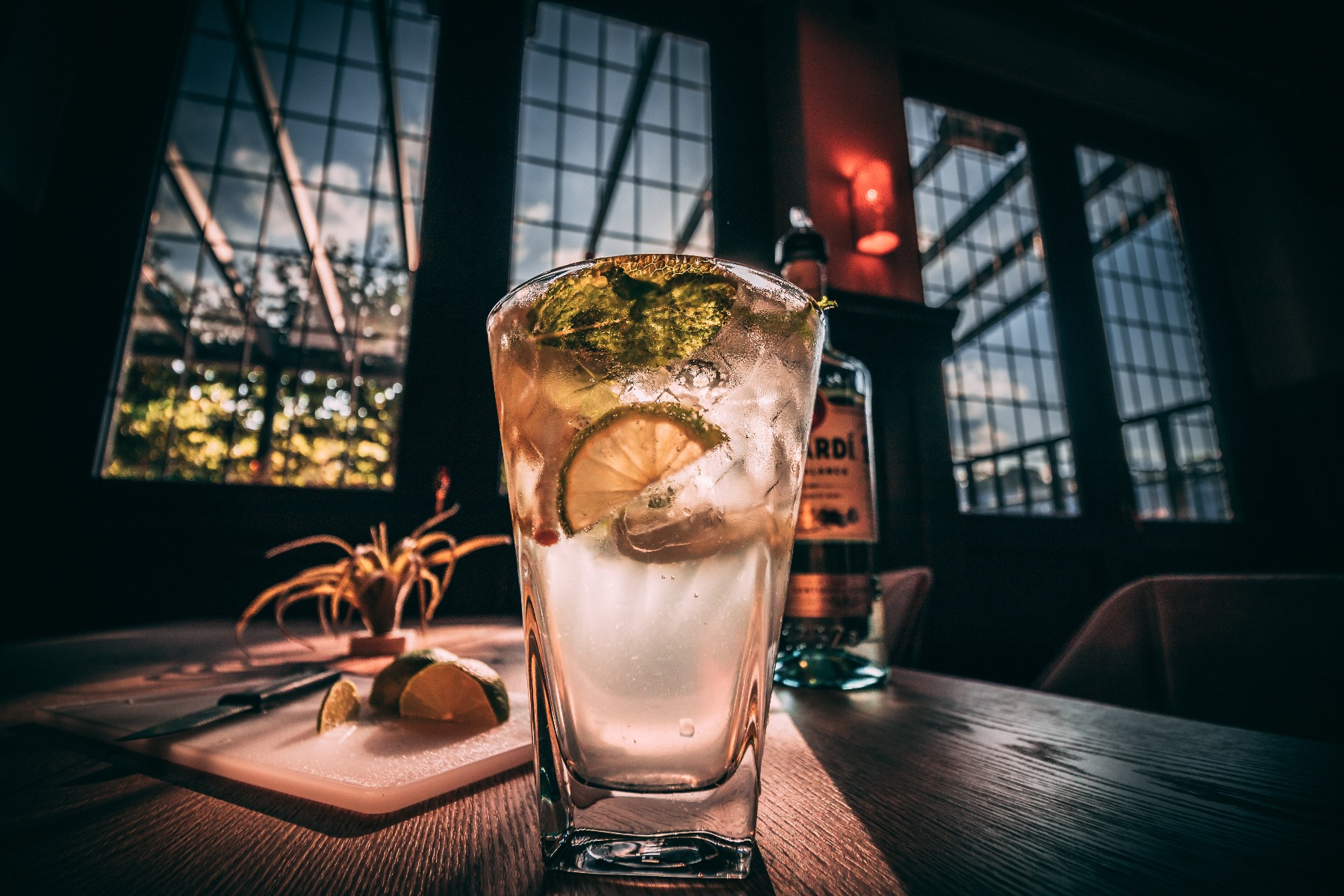 Scotland
We thought we'd start from the top. Scotland is home to beautiful, rugged landscapes amongst many other things, but they've also got more than their fair share of amazing cocktail bars too. Check out this wonderfully designed bar that'll get your taste buds tingling!
The Devil's Advocate, Edinburgh
Website: https://devilsadvocateedinburgh.co.uk/ 
Instagram: https://www.instagram.com/thedaoldtown/
Situated on Advocate's Close in the Old Town of the Scottish capital, The Devil's Advocate is one of many jewels in the crown that is Edinburgh.
The gorgeous interior combines old, rustic stone and brick walls and high wooden beams with a gleaming back-lit bar that lets their impressive array of spirits do all the talking – it's a renovated old Victorian pump house that's been restored to splendour thanks to the perfect blending of old and new.
Gorgeous wooden tables, low hanging industrial style shades and high windows that let natural light in from above all add to the atmosphere of this top-tier bar. Check out their chic Scandinavian Shoreditch-style bar stools too (if you're madly jealous, we've got our own on sale for you to snap up - https://wheresaintsgo.co.uk/shoreditch-scandinavian-style-bar-stool-black.html).
One of The Devil's Advocate's USPs is their mind-boggling collection of Scottish whiskies. Their 'Whisky Flight' is a tasting session that incorporates all the single malts that make up the world-famous Johnnie Walker whisky. These include tipples from the local Edinburgh distillery 'Glenkinchie' along with ones from Cardhu, Caol Illa and Clynelish. Whisky fanatics won't want to leave!
They also serve top restaurant class food if you wish to sample some deliciously local, seasonal Scottish produce, providing their own separate lunch and evening menus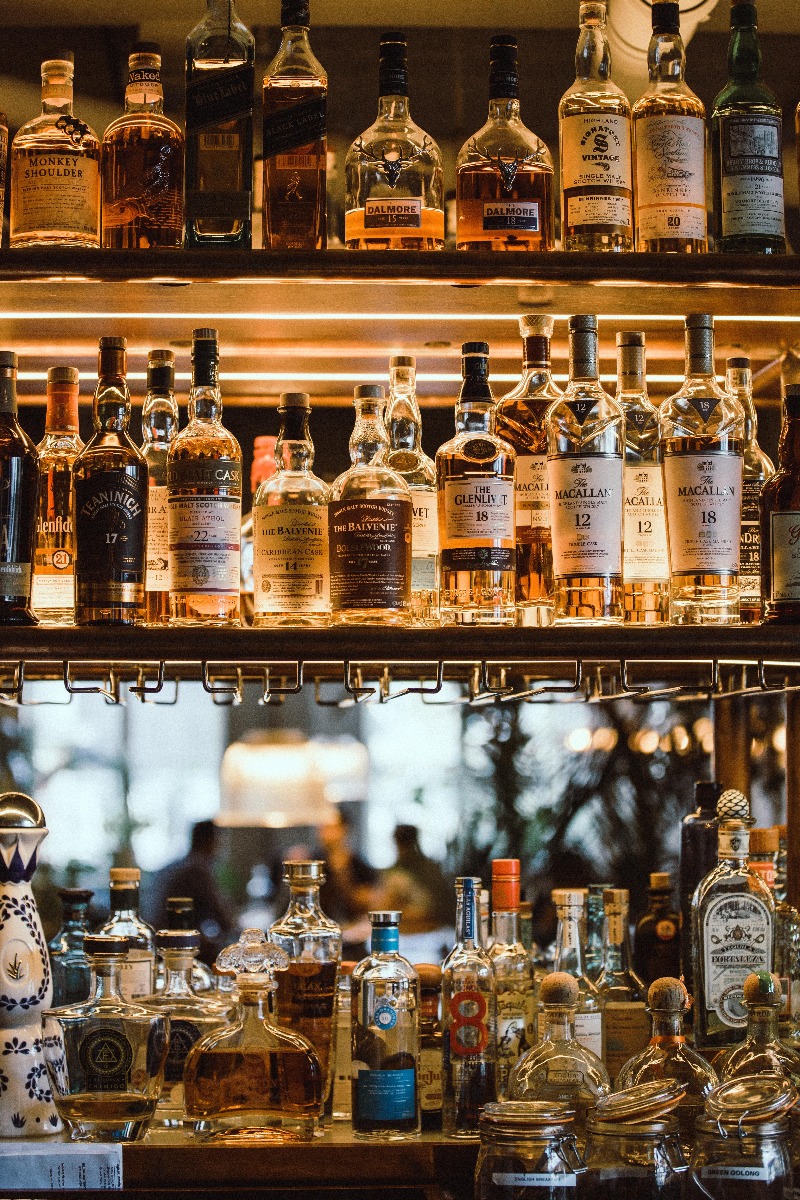 Scottish whisky connoisseurs will be in their element at The Devil's Advocate
If you're concerned about social distancing, fear not. The staff at The Devils' Advocate have thought of everything – there are clear floor markings, hand sanitiser stations aplenty and cashless-only payments to put your mind at rest, so you can sit back and enjoy a premium tipple in grand surroundings.
They are open for bookings and also offer takeaways and click and collect through their app. Booking info is clearly displayed on their website, so if you're in the local area or simply need an excuse to visit Edinburgh, (as if you needed one!) grab this opportunity with both hands and support such a great local business.
Wales
Moving down the UK, we've clocked one of the best and most distinctive cocktail bars that idyllic Wales has to offer. Head to the capital of Cymru to check out the winner of the 'Themed Drinks List of the Year' award. Trust us, this one will blow you away!
Lab 22, Cardiff
Website: http://www.lab22cardiff.com/
Instagram: https://www.instagram.com/lab22cardiff/
Head down Caroline Street in Cardiff and you'll stumble across an absolute gem of a cocktail bar. Staying true to its name, Lab 22 is a concoction of wonderful ideas and styling choices. Think of the mixology expertise of a chemistry lab combined with an urban meets industrial décor bar theme, and you've got the picture.
The staff at Lab 22 let their imagination run wild, having their own science-theme running throughout their menu which revolves around five main elements – Popular Science, Exotic Theory, Heavy Elements, Light Particles and Large Hardon Colliders. These are all related to Lab 22's experience packages; once you've booked on to one of them they last between one and two hours!
We also love what they've done with the place. The chemistry theme runs strong throughout, as you can expect drinks served by a fire-breathing bartender and dry ice bubbling out of your cocktail glass as if you've entered a crazy secret alchemy society! The menu also has a periodic table influence to it, a lovely touch that makes this bar stand out from the crowd.
They also offer live music at times – Moonshine Mondays go down a real treat as your carefully crafted cocktail goes down with a slice of live jazz in the background.
Lab 22 was also the proud winner of Cardiff's Best Bar Award in 2019, so a visit to this science-themed bar for your favourite tipple is a no brainer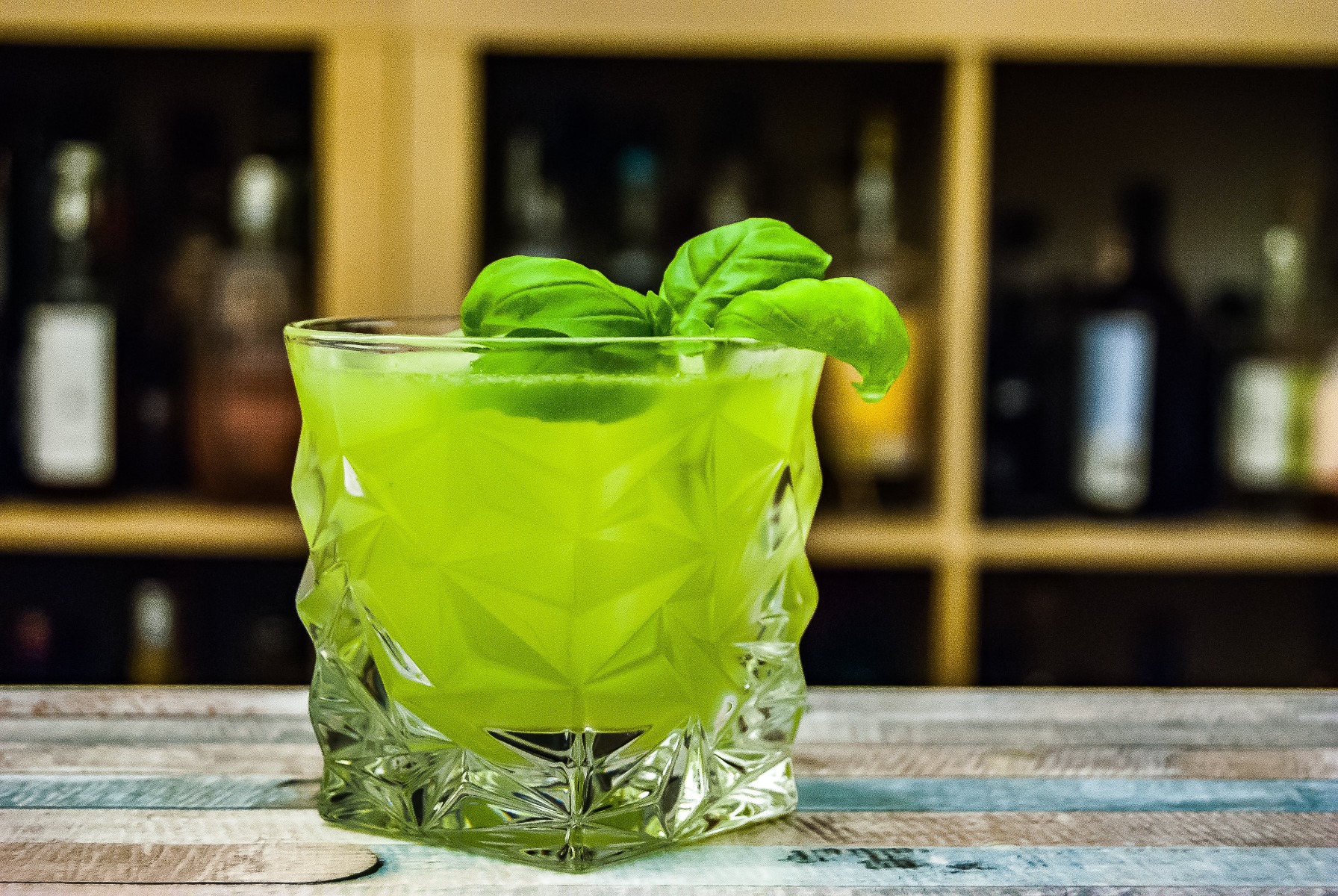 Cocktails meet chemistry? We'll drink to that!
Northern Ireland
Across the Irish Sea lies a cocktail bar and restaurant combo that needs to be experienced in person to be truly appreciated. The bohemian-themed interior is jaw-droppingly beautiful.
Hands down one of the best bars in Northern Ireland and voted best Fine Dining Restaurant in Belfast at the NI Food Awards in 2018, AMPM has bucket loads of boho styling and delicious food and drinks that are ready and waiting to be tasted.
AMPM, Belfast
Website: https://ampmbelfast.com/
Instagram: https://www.instagram.com/ampmbelfast/
Since this beauty of an establishment re-opened recently after the COVID-19 lockdown, it's no secret that a trip down Upper Arthur Street in Belfast will be well worth your time.
From the moment you step inside AMPM, you'll immediately realise why it's held in such high esteem. Bohemian styling influences adorn this place from head to toe – gorgeous French-style hanging chandeliers, artisan banquettes, gleaming mirrors and pink and white flowers hung from the ceiling all add to the magical atmosphere here – at times this seems more like an art exhibition than a restaurant bar!
But the décor is just the start. Owing to their name, AMPM serves food from breakfast through to dinner, alongside a vast array of sumptuous cocktails. From Bellinis to Bloody Marys, their own inspired Bohemian Blossoms (containing Gin, Elderflower Liqueur and Orange Juice) and Venetian Fizzes (Vodka, Gin, Lime Juice and then some), they're well stocked for those with a taste for something special.
They even offer some of their own top recipes on their website for you to craft at home, including a sumptuous three-course date night dinner recipe list. Needless to say, AMPM is just the kind of place we reckon our Saints may like to frequent or try out when looking for somewhere that's anything but ordinary. 
Their efforts towards social distancing are also worth mentioning (check out their dedicated coronavirus monitoring policy at https://ampmbelfast.com/corona-virus-monitoring-policy). Regular cleaning and sanitising is a welcome feature, and all WHO guidelines are strictly enforced. This place has got to be on your list if you ever find yourself in the area – give it a go!
England
England plays host to a ton of terrific cocktails bars up and down the country – honorary mentions go to Sheffield's Public Bar down Norfolk Street (http://www.publicpublic.co.uk/index.php) and the curiously Botany-themed Beneath Bar in Bath (https://beneathbar.uk.com/) which is set in a former apothecarist's basement, no less.
But our nod this time around goes to the oldest cocktail bar in Britain – oh yes, the American Bar of The Savoy Hotel in Covent Garden, London has been alive and kicking since 1893. And boy, is it a beauty…
 American Bar, London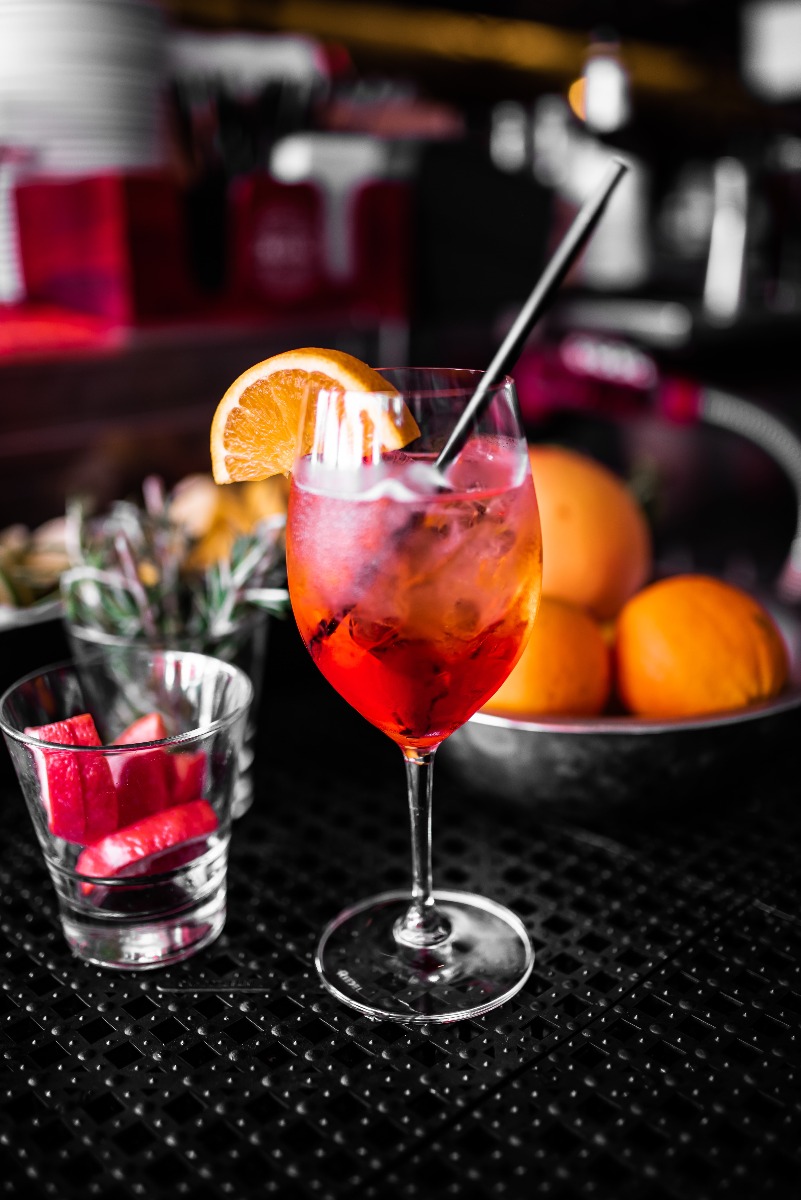 The well-renowned Savoy Hotel in London plays host to one of the greatest cocktail bars in the world.
Website: https://www.thesavoylondon.com/restaurant/american-bar/
For some super images, also see: https://www.top50cocktailbars.com/bar_profile/american-bar-london/
There's swanky, there's suave, and then the American Bar comes along and turns the gain up to 11.
World-renowned for its heritage, dazzling retro interior and bursting awards cabinet, this cocktail bar of the famous Savoy Hotel in London was voted World's Best Bar in 2017 by World's 50 Best and voted again in 2018 by Tales of the Cocktail.
The Gatsby-themed 1920s and 1930s American style interior is awash with black and white photographs from the era, classic art-deco chairs, (check ours out at https://wheresaintsgo.co.uk/the-gatsby-art-deco-style-blue-velvet-armchair.html) a bar that gleams with polished metal and mirrors everywhere and staff up the nines in crisp white suits, on hand and catering to your every whim.
It's like stepping back into 1925. All the glamour of the Jazz-Age is exemplified in this exquisite bar, and the drinks aren't half bad either. You name it, they're got it. They don't come cheap, but you really are paying for a once-in-a-lifetime experience when you come here, so add this one to the bucket list if you can.
Home Recipes
Has all this talk of Tanqueray and Tequila got you salivating at the thought of trying out some classic cocktails right away? Fear not. Try your hand at your own at home, as we've got a few well-known recipes together to whet your appetite before trying one of these bars on your travels.
 1.     Tequila Sunrise
A classic for good reason, and what better way to re-create the colours of the summer sun than in your glass with a glowing red and orange tipple?  Here's what you'll need to create this all-time favourite. (Top tip – this goes perfectly whilst watching an actual sunset – it may be a little early to drink for a sunrise but we won't judge…)
Ingredients:
2 Teaspoons of Grenadine
Ice
50ml of Tequila
1 Tablespoon of Triple Sec (Curacao Triple Sec)
1 Large Orange or 2 Small, Juiced
Half a Lemon, Juiced
1 Cocktail Cherry
Method:
Grab a tall glass and pour the grenadine in first. Then, fill a cocktail shaker with ice, tequila, triple sec and your orange and lemon juice. Shake until the shaker is cold to the touch.
Add some ice to your glass before double straining in the cocktail mix. Finish with a cherry on top, plus a cocktail umbrella if you want extra marks for presentation.
 2.     Long Island Iced Tea
Another summer weather favourite, you can't go wrong with this legendary aperitif that originated on the other side of the pond. Named after the heavily populated island situated south-east of New York State, this stateside special has won the world over. Here's how to craft your very own:
Ingredients:
50ml of Vanilla Vodka
50ml of London Dry Gin
50ml of Reposado Tequila
50ml of Rum
50ml of Triple Sec
50-100ml of Fresh Lime Juice
Ice
500ml of Coca-Cola (or alternative brand)
2 Wedges of Cut Lime
Method:
Firstly, pour the vodka, rum, tequila, gin and triple sec into a large serving jug (1.5 litres should be about right). Then half fill with ice and stir until cold to the touch.
Add the Coca-Cola, stir, then add the wedges of lime. Finally, serve in long tall tumblers to achieve the traditional image of a thirst-quenching summer drink. A 1.5 litre jug will be enough to serve 4 drinks in standard-sized tall glasses, so use this as a guideline for your amounts.
Another Stateside import, we simply couldn't resist adding in this delicious tipple. Originating in the American South during the late 16th century, this cocktail has real heritage. It was so well-received that it became unofficially known as the drink of the South, and was associated with the higher classes due to its traditional serving in an expensive silver or pewter cup.
Oh, and this one's really simple. Here's how to craft your very own:
 3. Mint Julep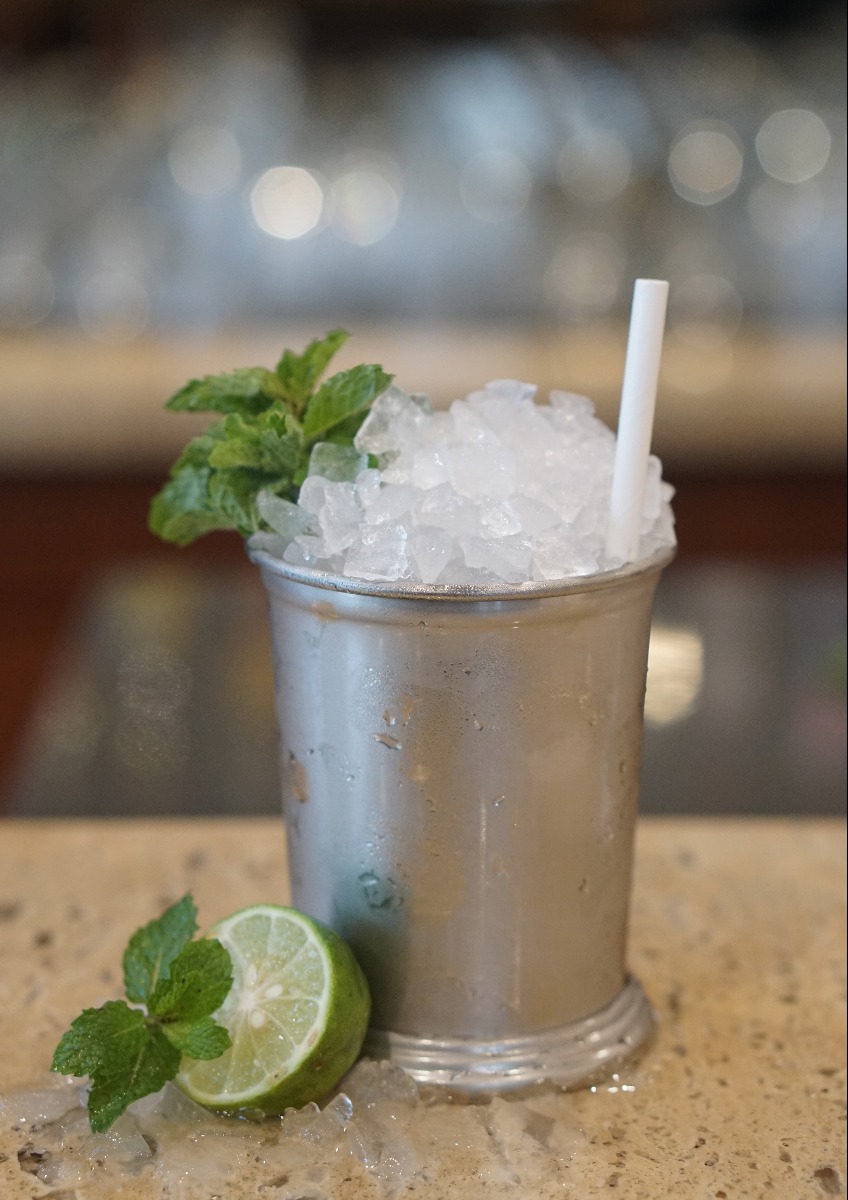 Serving a Mint Julep in a pewter cup adds that extra element of authenticity.
Ingredients:
65ml of Bourbon
Handful of Mint Plant Leaves
12.5ml of sugar syrup (to make this, dissolve 200g of sugar in 100ml of water on a low heat. Allow to cool, bottle and store in the fridge for up to a week).
Crushed Ice
Sprig of Mint and a Straw
Method:
Simply shake the bourbon, mint leaves and sugar syrup with ice before straining into either a highball glass or Collins glass.
Mix together gently with a long spoon, before topping off with more of the crushed ice. Garnish and serve generously to you and your guests.
So, there you have it. A few tipples to get you started, and our pick of some of the best cocktail bars the UK has to offer. These are just some of our ideas – there are so many types of bar out there that need your business during these tough times, so drink out to help out if you can, and get exploring!
We'll see you again next week Saints, so thanks for reading and…
Feel the Love!