Swipe to the left
Looking for the perfect retreat now lockdown is lifting?
We reckon Anthology Farm is the perfect antidote to all that uncertainty we've faced over these past few months. Read on to discover why…
Set in the stunning Gloucestershire Cotswolds, Unique Homestays' Anthology Farm is a gorgeous 18th century barn conversion that's been crafted with some serious sophistication in mind.
 Anthology Farm is a smorgasbord of sophistication.
Bursting at the seams with all things vintage and culture, with homages to décor from distant lands, this is a retreat that will give you plenty of food for thought to inspire you with your own home furnishings ideas, as well as leaving you feeling refreshed and revitalised after the 'Stay at Home' message we've all been dutifully following recently.
We know that anyone who loves Where Saints Go already has a keen eye for anything but ordinary, so this would be the ideal destination for you to relax in style and be transported to a setting that packs a serious punch of rural charm, tranquil countryside surroundings and high-end luxury.
International Inspirations
Wherever you look, Anthology Farm has décor linked firmly with exotic cultures. From the Moroccan tiles to the Scandinavian inspired framework, this one-of-a-kind accommodation isn't shy when it comes to showing off its various party pieces.
And yet, it was also built with heritage and home-grown customs in mind. The Barnes family responsible for its creation worked with local planners and an award-winning London design house, ensuring that no corners were cut and no stone was left unturned. The result of which was a property renovated in a style that fully respected its rural Cotswold roots, whilst splashed with exquisite interior furnishings and exterior design craft.
Dining Delights
One perfectly illustrative example of how far this place has gone when it comes to showcasing luxury in style is found in the main dining room. Our beautifully crafted Hans Wegner Wishbone chairs have been placed in the ideal setting, marking a real centrepiece of the property.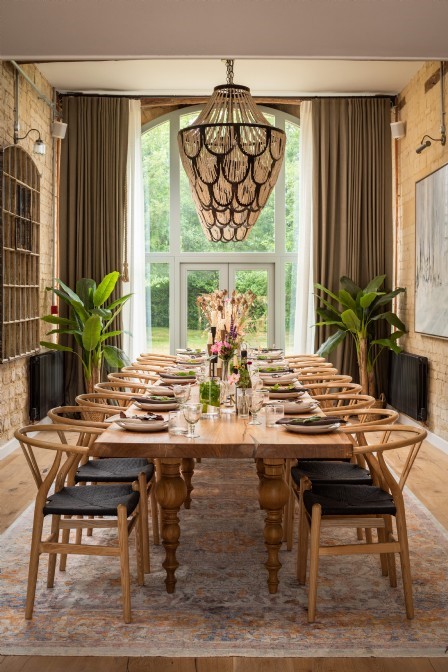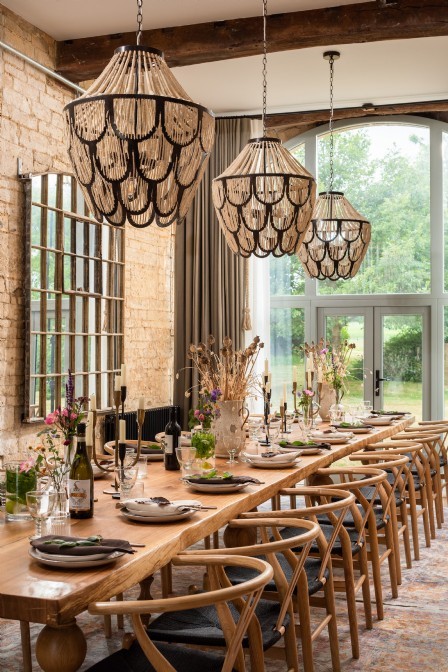 The dining room is a natural place where everyone congregates, and Anthology Farm makes sure this is done in style. Our Wishbone chairs are the perfect setting for a room where all the fun takes place.
Restored Elegance
The team here at Where Saints Go thinks that there's something extra special about restored properties. When done properly, having a modernised space that retains its heritage and old charms really is the best of both worlds, a little bit like our industrial vintage range of products. Mixing old with new can make for a serious style statement, and there's no shortage of this at Anthology Farm.
The use of natural materials when and where possible really helps to give off the cultural vibe of the property. Lead-paned windows, brass candelabras, wooden tables and claw-foot baths all evoke the industrial but vintage ambience that blends perfectly into the picturesque, pastoral landscape of the English countryside.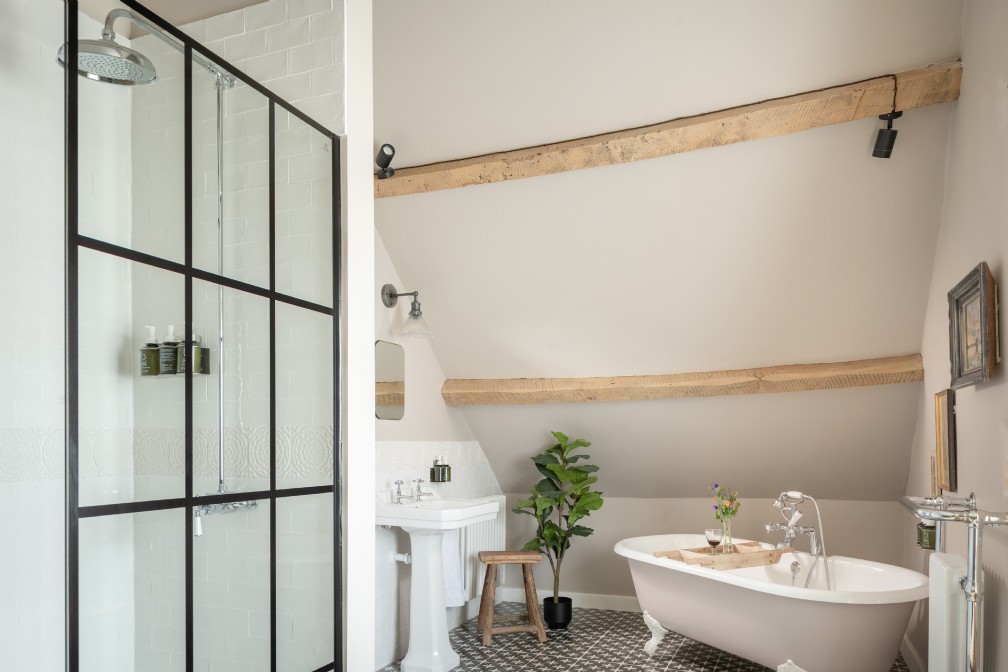 No matter where you look, the rooms at Anthology Farm are jam-packed with head-turning vintage styling.
Countryside Tranquillity
The beauty of Anthology Farm doesn't just lie inside. Its jaw-dropping Cotswolds surroundings denote the property itself as a real jewel in a crown.
If you're a fan of rolling green vistas and 500 acres of tranquil farmland, you'll be right at home here. Priding itself on its rural heritage, the farm itself is part of a countryside stewardship scheme – local arable life is paid the respect it deserves. One example of this is the conservation efforts made towards the rare and colourful Bee Orchid which proliferate the local meadows. These beautiful flowers bloom in June and July, just in time for the property's opening date of the 4th July so if you're lucky, you may be treated to a festoon of colour when you arrive!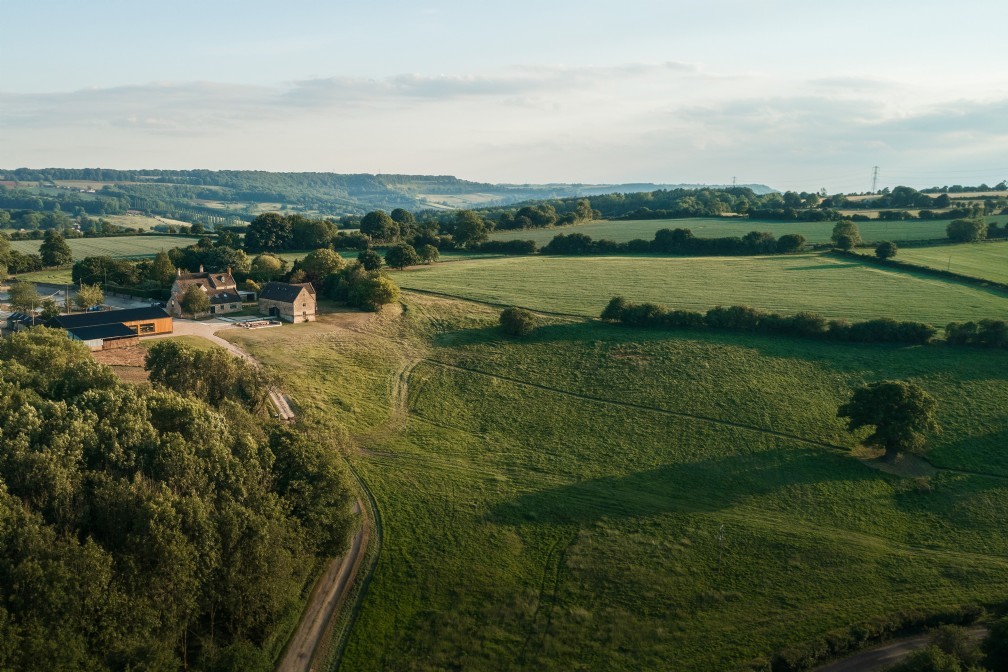 Featuring rolling hills and picturesque vistas, the beauty of Anthology Farm's surroundings have to be seen to be fully appreciated.
So there you have it. The ideal spot for your much needed lockdown emergence getaway. So while there's still some summer to be enjoyed, why not give you and your family/friends the perfect excuse to visit one of the UKs most beautiful locations in style? Give Anthology Farm a go.
We'll be keeping you all updated with regular recommendations for those top-tier escapes/mini-break ideas on the WSG blog, and they'll also give you some great style inspirations too. Don't forget to check out our website regularly to keep posted on all our latest additions. We may have the perfect piece you've been looking for!
But for now, stay safe and endure the lockdown in style.
Feel the love!