Our Where Saints Go Story
Welcome to Where Saints Go!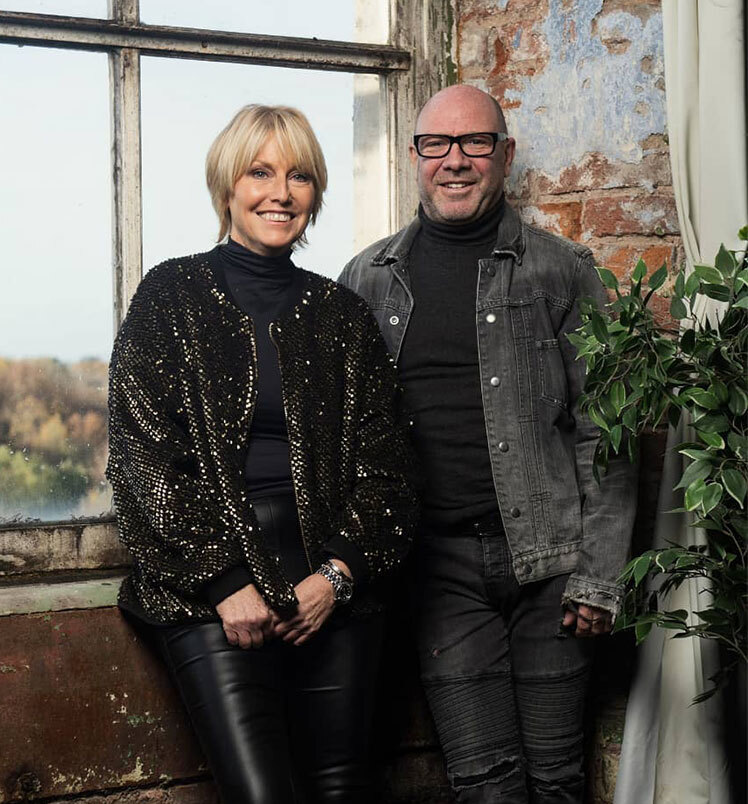 We are an eclectic online furniture company that's anything but ordinary, providing unique, quality products at affordable prices. Our co-founders, Mark and Tracey, launched the company in 2014, but the seeds of inspiration were planted long before then.
From Mark's perspective, a deep love for furniture has always been in his DNA. During the 1980s and 90s, his father John Wilman ran the renowned wallpaper company Coloroll, whilst his sister is a leading London-based interior designer and founder of Catherine Wilman Interiors. His brother Tim also runs his own luxury wallpaper studio, SketchTwenty3.
Mark's thriving ambition began during his early working years as an advertising photographer, where he and a friend held monthly antique auctions which ultimately led to a lasting love for furniture.
His flair with the camera endures to this day, as he artistically captures the images for all the beautiful products you see on the store website. Honing his craft during the pre-digital age certainly paid off!
By the early 1990s, Mark had begun importing antique French furniture for his Camden furniture shop, but the final spark that led to WSG's creation came from a moment of crisis.
Ten years of running his own furniture packing business in Spain had been cut short due to the financial crisis, forcing him to return home to the UK and change strategy. It was then that he met Tracey.
Tracey's professional background was in the legal sector, but an instinctive love for statement furniture ultimately led her to embark upon a radical career change.
Her devotion towards rock 'n' roll design trends began during her student accommodation days in Manchester, where she would often rip up the carpets and whitewash the walls in preparation for a stylish revamp (much to her landlord's dismay!).
In her own words, Tracey describes her personal style as both eclectic and a little 'off the wall', a trend that translates perfectly into WSG's product range!
After meeting Mark, it was clear that the pair shared a passion for witty home decor, but it was a trip to a Marbella antiques market that showcased their shared appreciation for style. The vision to create their own company swiftly took shape, and they soon found themselves in India, seeking out the first consignment of WSG stock.
Always staying ahead of the curve, the pair began by mostly sourcing industrial decor, but this has progressively evolved into both mid-century and bohemian trends.
Along with their synonymous love for furniture, Mark and Tracey share a keen interest in travel, regularly mixing business with pleasure in some of their favourite holiday destinations. This often includes partying hard in Ibiza!
Their various trips to exotic locations frequently combine work with play - an ongoing search for the latest furniture trends is intermingled with some much-needed downtime, complimented by plenty of cocktail sampling and visits to top-tier music festivals.
Despite their growing success, Mark and Tracey have always stayed true to three fundamentals that underpin the WSG brand:
1. Source uniquely beautiful, quality products that they would love for themselves.
2. Offer them at affordable prices for our Saints.
3. Provide a friendly yet professional customer experience.
A simple, yet hugely successful recipe for success. In an increasingly online retail world, this triumphant start will only grow stronger. The Saints story has only just begun. The sky's the limit, and we can't wait to share our future with you!
Now, get browsing for something that's anything but ordinary!
Mark & Tracey